With a population of nearly 33 million, Malaysia is one of the most influential nations in Southeast Asia, which is viewed as a fast-growing and vital hub. Malaysia's capital, Kuala Lumpur, is in turn seen as one of the region's important economic centers, having also expanded rapidly in recent decades.
Samsung C&T Trading & Investment Group was attracted to these characteristics more than 40 years ago, establishing its KL Subsidiary in 1979. In this feature we will explore the business interests of the company's office in KL as well as some of the secrets of its longevity and success.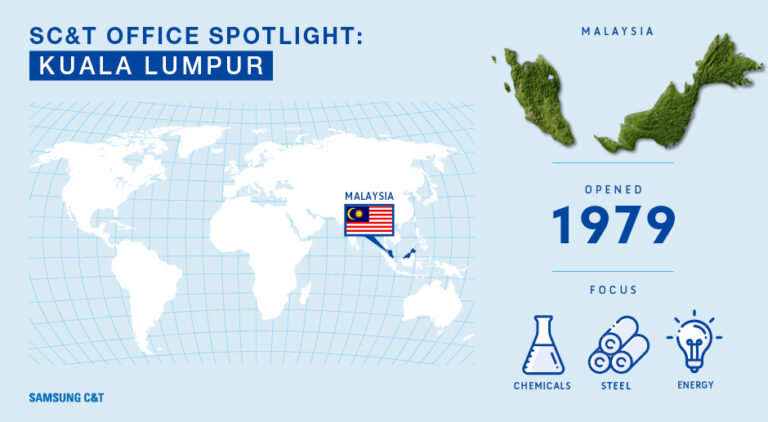 Local office: An important pillar that supports business
The KL Subsidiary's major trading interests concern chemicals, steel, and energy. Regarding chemicals, it supplies commodities like fertilizers and methanol in and out of Malaysia, utilizing Samsung C&T's overseas networks such as those in South Korea, Southeast Asia, and Latin America. As for steel, the subsidiary purchases hot and cold rolled steel and stainless steel and sells them on to local pipemakers in Malaysia. In terms of energy, it focuses on cleaner sources of power, supplying LNG, wood pellets, and palm kernel shells. In addition, the subsidiary is actively seeking growth engines through the development of new projects.
The KL Subsidiary's local knowhow has played an important role in expanding its key business interests. First, it puts a lot of effort into market research. It conducts desk-based research using various official data and promptly verifies the business-related information via interviews with local companies. And while seeking to understand clients' management policies and strategies as well as market trends in advance, the subsidiary builds trusting relationships with clients through a strategic approach, using them as a foundation to conduct business.
In particular, given the difficult pandemic situation last year, the subsidiary's solid expertise really shone based on those factors such as local market research and trusting partner relationships. The office itself has also made efforts to change and adapt while completely shifting towards contactless working methods.
Going forward, the KL Subsidiary expects renewable energy, including LNG, will continue to grow for the next decade, especially considering LNG is a crucial energy source during the full transition to renewables. The office can continue to closely explore business opportunities that stem from these trends.

Trusting relationships: The key to long-term business success
Of course, knowhow would be a lot less helpful without the relationships to put that expertise to good use. The KL Subsidiary has placed great emphasis on maintaining trust with local partners. This includes continuously keeping up-to-date with their needs and offering the strategic support of Samsung C&T's headquarters.
Thanks to stable and trusting relationships, the subsidiary can open new business paths with its state-owned partner in Malaysia, with which it has had a relationship for over 20 years. It was the result of the KL Subsidiary's continuous efforts to look for possibilities of cooperation and propose possible opportunities, even in areas where it is not currently doing business.
"Everyone will agree that building good relationships with customer businesses and managing a cooperative network in one's given sector are preconditions for the successful conclusion of contracts and the maintenance of good long-term business relationships," Mohd Nadri Bin Ramli of the KL Subsidiary insists.
Building meaningful relationships also includes strengthening local community ties. For instance, the subsidiary has carried out volunteer projects in a nearby facility, engaging in diverse activities.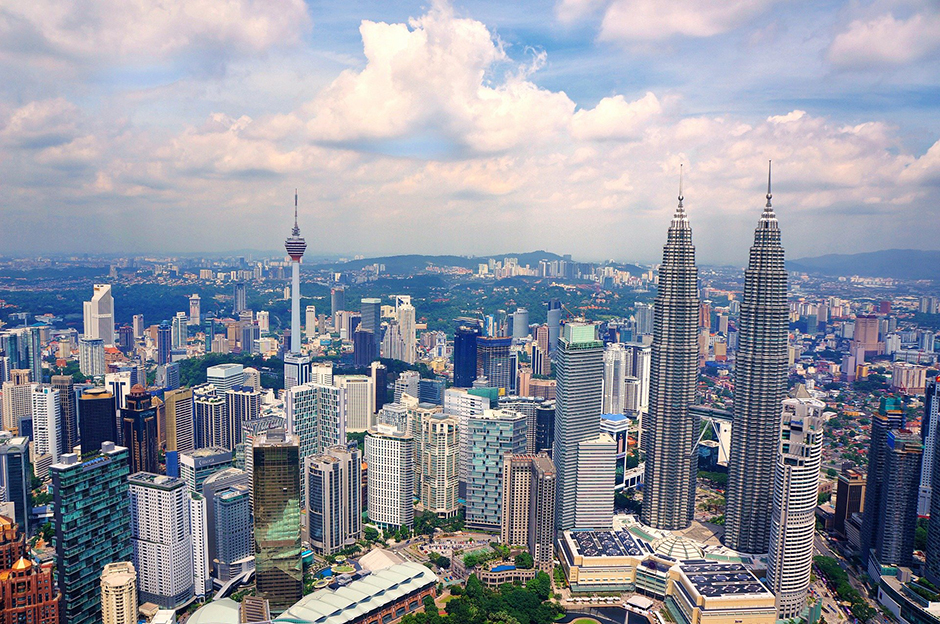 Everyone at Samsung C&T's KL Subsidiary is resolved to face challenges with a "can-do" mindset. It is a mentality that will continue to be very important according to Steve Ko, head of the subsidiary.
"I think the business environment will change rapidly in the post-COVID-19 era and our company will also pour its resources into new projects for sustainable growth," Ko says. "Therefore, everyone at the KL Subsidiary will strive to play a lead role in such changes."