It's been a question on many traders' lips this year: are we witnessing the start of a commodities supercycle?
To put it simply, commodities supercycles refer to a long-term trend of price increases. For example, if demand increases while supply shortages persist for a period of years, this can create a supercycle.
This phenomenon can last for more than a decade. We have seen four commodities supercycles over the last 100 years, the last of which ran from 2000 to 2015 when the rise of Brazil, Russia, India, and China drove up demand for raw materials.
Why we might be in a supercycle
As the world transitions to a green economy, we may be seeing a supercycle due to increased demand for resources needed for this environmentally friendly shift. Also the effect has been further driven by global infrastructure investment and a construction boom in China as the world begins to recover from the economic impact of COVID-19.
In its 2021 Commodities Outlook, Goldman Sachs drew comparisons with the "structural forces" that drove metal prices in the 2000s. For instance, the U.S. economy has seen its fastest growth since the early 1980s and British manufacturing has expanded at its most rapid pace in nearly three decades. And copper, a key commodity indicator used in most sectors of the economy, topped $10,000 per ton in May for the first time in 10 years.
Another vital global commodities barometer is steel, given its importance to a variety of industries from construction to automobiles. While China has seen "insatiable demand" for steel this year, iron ore's price also reached a record high in May. Over in the U.S., economic recovery has driven a record high for hot rolled steel coils.
The power of the green economy
Despite a dip for some commodities last month, supercycle predictions have not disappeared – particularly where metals are concerned.
Amid the force of the green economy, China aims to make electric vehicles the mainstream option for auto sales by 2035, while countries in Europe and beyond are drawing up similar plans. Strengthening of environmental policies creates new supply constraints due to mining challenges, which in turn drives up metal prices amid speculation and bulk buying.
The coming 10 to 15 years will therefore see important changes for 'green' metals like copper, aluminum, nickel, lithium, and cobalt – all raw materials for EV batteries. As a result, we may see copper reach $15,000 per ton in the coming decade, taking on the role of oil as it is essential to the future of electrification. Regarding those other metals, we have already seen aluminum demand rise from 44.7 million tons in 2010 to 71.4 million tons in 2020, while nickel increased from 1.5 million tons to 2.6 million tons during the same period.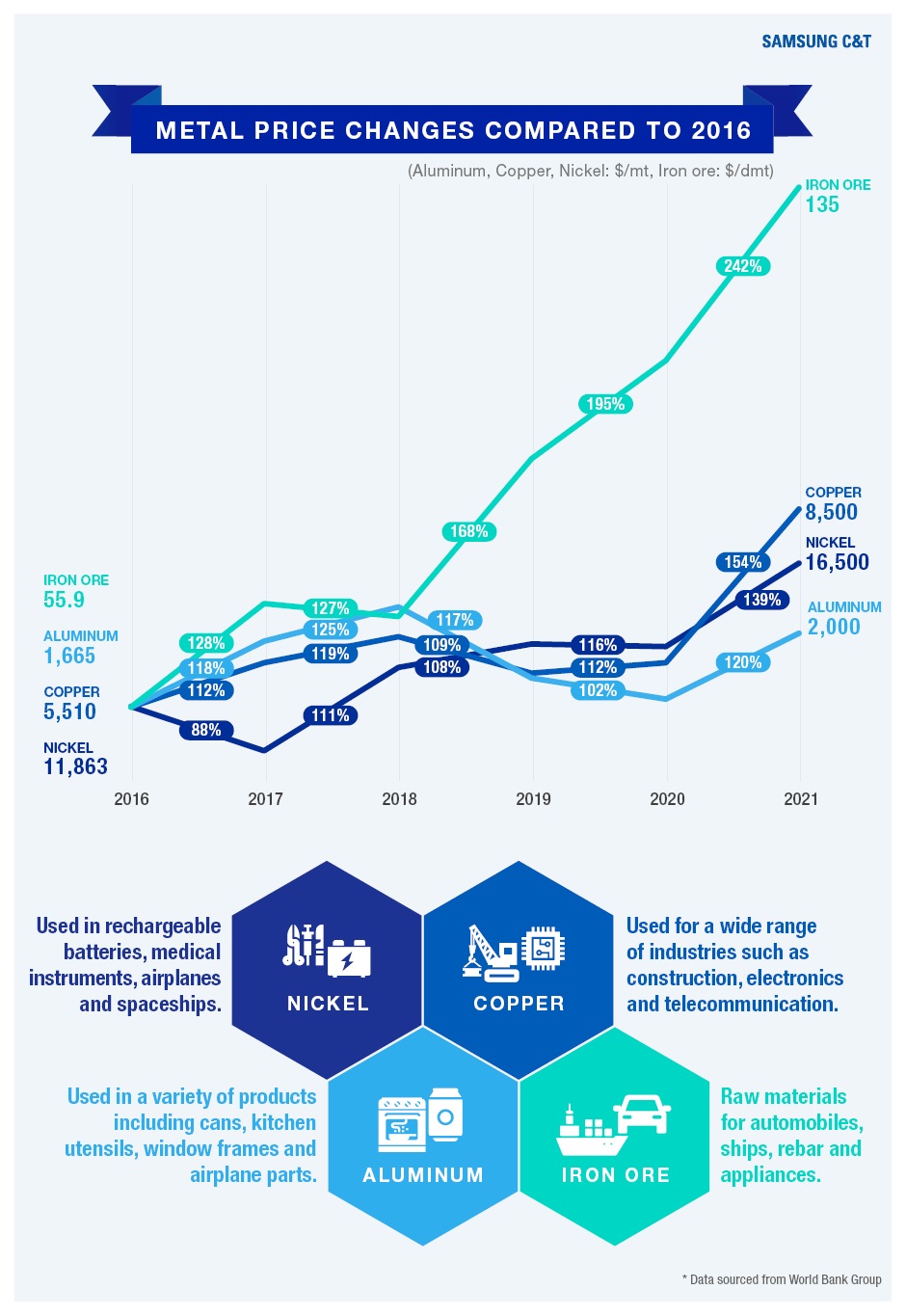 Doing business during a possible green supercycle
Companies as well as countries are competing to secure raw materials for their green economic plans. Samsung C&T Trading & Investment Group is also trading raw materials that lead the green economy. We addressed the group's coppper trading business in this Newsroom back in 2019 in relation to how EV growth was accelerating demand for the copper. We have also seen how the company supplies hot and cold rolled steel and color steel plates to automakers, construction material manufacturers, shipyards, and distributors around the world.
Moreover, nickel and cobalt trading remain an important business for Samsung C&T, while the company has more recently been joined by investors in collecting both of these metals via the rechargeable battery recycling business. And the company announced in October 2020 that it would contribute to the transition to a low-carbon society by declaring a complete halt to new coal-related projects.
It may be premature to declare a supercycle yet, but trading companies are striving to meet growing demand for commodities in a variety of ways, with Samsung C&T among them closely monitoring changes. Certainly, a commodities supercycle would be lead to as an opportunity for the Samsung C&T to provide raw materials sourcing and related information to manufacturers.