Natural gas, LNG, and the energy crisis
You may recall we mentioned both natural gas and LNG when we discussed the global energy crisis last month. Firstly, let's just clarify that LNG is natural gas that has been cooled to a liquid state. The advantage of doing so is that LNG is 600 times smaller than natural gas in its gaseous form, which makes it realistic to ship, store, and access where gas pipelines are not practical.
Natural gas is also very versatile. It can be used for energy, heating, cooking, transportation fuel, and industrial applications. Even more importantly, natural gas can act as a bridge between the old and the new during the world's transition from the most polluting fossil fuels to renewable energy sources. As we pointed out here, natural gas emits up to 50 percent less carbon dioxide than coal when burned for fuel and as much as 25 percent less than oil.
For the reasons stated above, demand for natural gas in its various forms has been steadily rising for years. Yet we saw the market go from glut to shortage at breakneck speed in the last few months because a long winter depleted stocks in Europe – not to mention other factors such as rising energy demand amid pandemic recovery efforts and restricted supply from Russia.
Like Europe, other parts of the world have been seeking to cut carbon emissions by consuming more natural gas. For instance, gas demand has jumped 50 percent over the last decade in Asia, where you have China connecting up to 15 million new homes in coastal cities to its gas grid every year. The International Energy Agency expects China to account for 30 percent of the global increase in natural gas demand by 2024.
Optimism, caution, and patience
A fall in Asia LNG prices for consecutive weeks since last month, dropping below $30 per mmBtu, signaled a balancing of the market as supply from Russia has also improved. But we're not out of the woods yet, as the coming of cold weather has raised expectations of a return to recent record highs.
While there is certainly a race to replenish stocks, there is no quick fix. You cannot instantly conjure up facilities for LNG transportation and storage, and natural gas production facilities also take time.
For instance, Qatar, the world's largest natural gas producer, plans to increase production through the expansion of the North Field. However, the Gulf nation has also said it's difficult to dramatically increase natural gas production in a short period of time.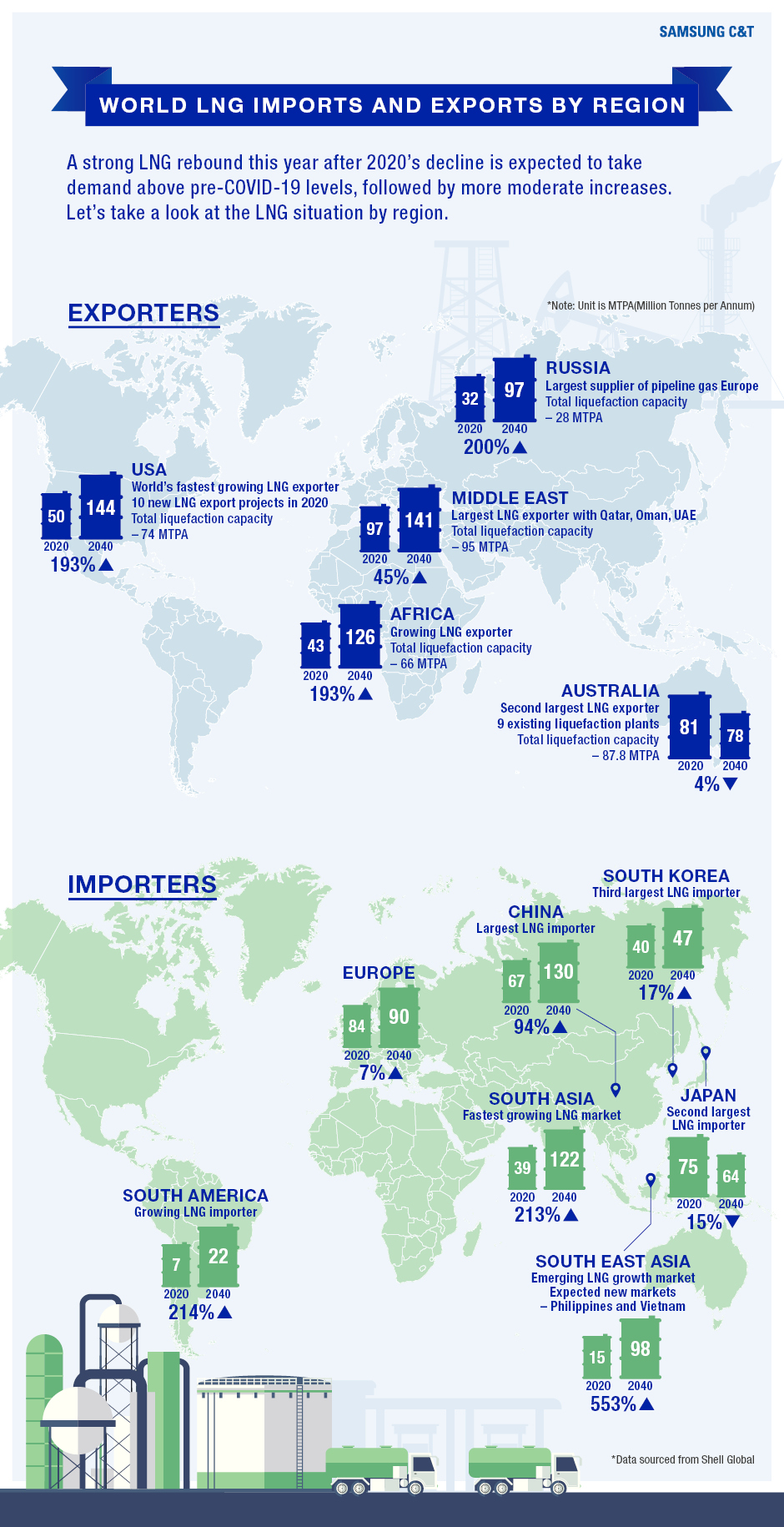 Working hard to keep supply moving
While Samsung C&T is committed to investing in clean, renewable sources of energy, it has already recognized the importance of boosting LNG supply to meet the vast demand of countries around the world.
In particular, the company is focusing on LNG combined-cycle thermal power and storage facilities carried out by the Engineering & Construction Group, while the Trading & Investment Group is conducting LNG trading in Southeast Asia, including Malaysia.
It's clear that the role of general trading companies has become all the more significant due to higher demand for natural gas, increased prices, and greater volatility. Samsung C&T will pay close attention to the market and spare no efforts in aiming to provide stable services for natural gas transactions, as well as helping to ensure a smooth transition to eco-friendly forms of energy such as hydrogen and solar power.