KANGHYUK has done it again. The creative duo of Choi Kang-hyuk and Shon Sang-lak, who last year burst onto the fashion scene with eye-popping creations made using automobile airbag fabric, again won the Samsung Fashion & Design Fund (SFDF), taking home the prestigious award for the second year in a row.
The judging panel for this year's 17th SFDF awards, made up of creative directors and design directors from Samsung C&T's Fashion Group, magazine editors, and more, awarded KANGHYUK the maximum score in originality, completeness and marketability for their new collection.
KANGHYUK's co-founder Choi expressed his happiness with winning the award for the second time and his thanks for the interest in his and his partner's work.
KANGHYUK: A unique combination of talent defying convention
Choi Kang-hyuk and Shon Sang-lak met at the Royal College of Art in London in 2016 and launched KANGHYUK after graduation. They quickly established a name for themselves, finishing as semifinalists in the 2019 LVMH Prize competition.
In 2020 the pair won the 16th SFDF award for their original designs and use of excess airbag material as a fabric for high-end menswear. It is this use of a nontraditional textile that helped solidify KANGHYUK's unique brand identity as offering a creative interpretation of the concept of sustainability.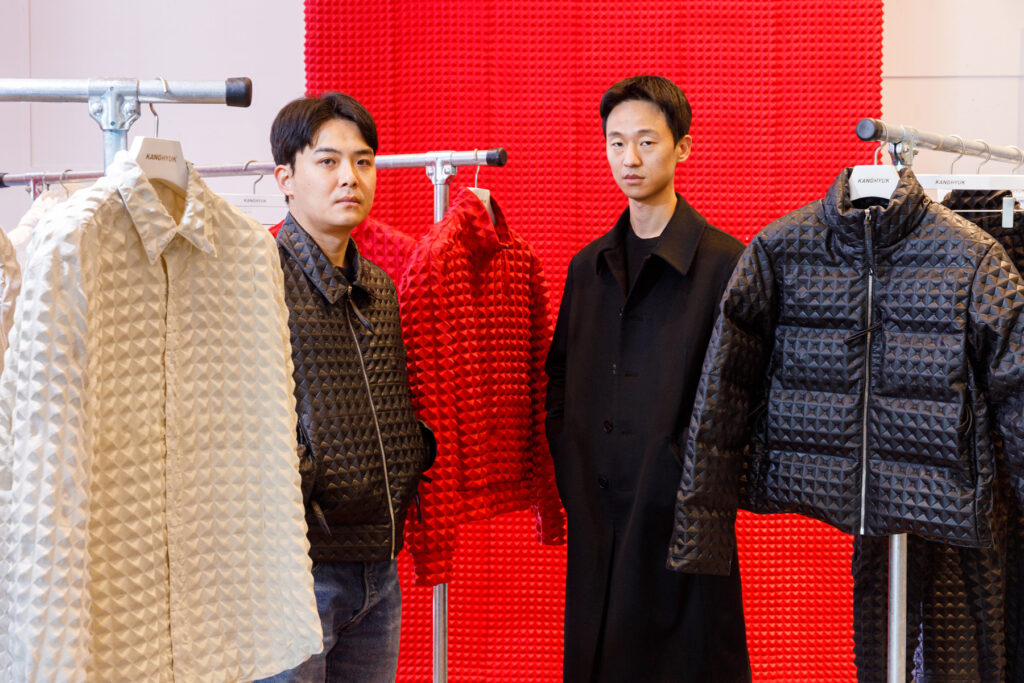 Employing fabrics not often seen in the fashion world, they design and fabricate their items in their own atelier. This year, Choi and Shon have defied convention once more, drawing inspiration from soundproofing material used inside vehicles to craft their spring/summer 2022 collection.
Explaining the concept, Shon says, "Based on the embossed and intaglio look and feel of soundproofing material, and including the sustainability that we have been pursuing, we used vegan leather, vegan suede and recycled jersey fabric to take our story in a slightly different direction."
Both Shon and Choi immediately agreed that it was a good idea. Shon adds, "It was an opportunity to show something new and, because we focused on developing the material itself in our own exclusive way, we felt very proud that we were able to perfect a single fabric and use it for the entire collection."
Their interest in the automobile industry is where their inspiration is from. Nevertheless, the fabric itself plays a big role in the process. Shon said, "Since we first started by creating garments from airbags, we mainly focus on the feel of a fabric."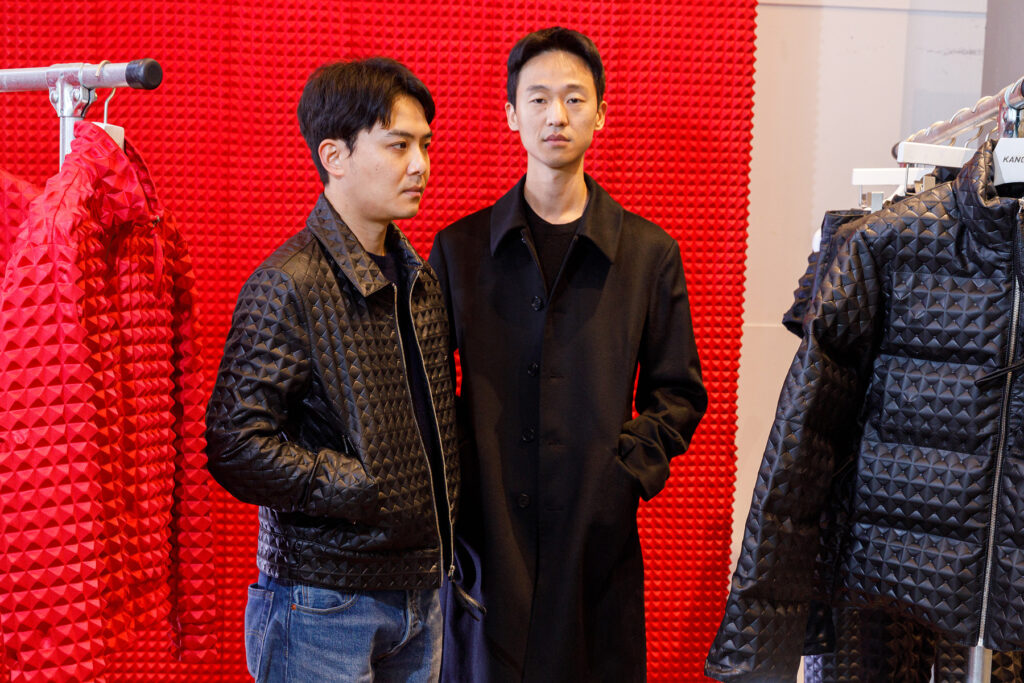 As a brand, KANGHYUK has already grown and matured since earning its first SFDF award in 2020. Says Choi, "Since then, our sales have grown, and our brand and work have become better known, so our image is stronger."
Going forward, they have many new experiments planned. Shon said, "I think we are on track to some extent because we have won the SFDF award two years in a row, and to keep up that momentum we are planning to show off various projects." Choi chimes in, "Since we are a brand that combines materials like automobile airbags with fashion, we are also thinking about doing a collaboration with an automaker."
SFDF: A prestigious annual fashion award
From 2005 Samsung C&T's Fashion Group has been recognizing the talent and creativity of emerging Korean fashion designers with its SFDF awards. Each year, judges select a rising K-fashion star working somewhere in the world to receive USD 100,000 to support future designs as well as promotional activities in Korea and overseas. Winners also receive professional support to help them build up their own businesses.
"As Korea's leading platform, SFDF will play a role in training talented designers who will go down in the history of Korean fashion," said Choi Myung-koo, director of Samsung Fashion & Design Fund.