The message from the world's biggest auto shows this year has been clear – the world's largest automakers are placing a huge priority on electric vehicles (EVs).
For instance, almost all of the top cars touted at IAA Mobility 2021 were EVs. In fact, Europe's Car of the Year 2022 will probably be electric, and we're talking approachable brands aimed at families and the mass market.
So, is it finally time to say that EVs are moving into the mainstream – and if so, what does that mean for supply and related markets?
Why is demand for EVs surging?
It's pretty clear from what we've mentioned above that automakers themselves are now jumping into the EV fast lane, committing new models to electric power and the gains that come with a green alternative to burning gasoline or diesel.
The changing tide from combustion vehicles is also being influenced by government policies as the world seeks to cut harmful road emissions, from U.S. President Joe Biden's push to ensure half the vehicles sold in the U.S. are EVs or plug-in hybrids by 2030 to the UK moving to mandate that new homes and buildings come with EV charging points from next year. Overall last year, governments worldwide spent US$14 billion on direct purchase incentives and tax deductions for EVs, which was a 25 percent jump year-on-year.
And that's all having a very clear impact on demand. Over 40 percent of consumers thinking about buying a car in the coming months say they will buy an EV according to a recent survey of more than 9,000 people across 13 countries.
An expanding market outlook for EVs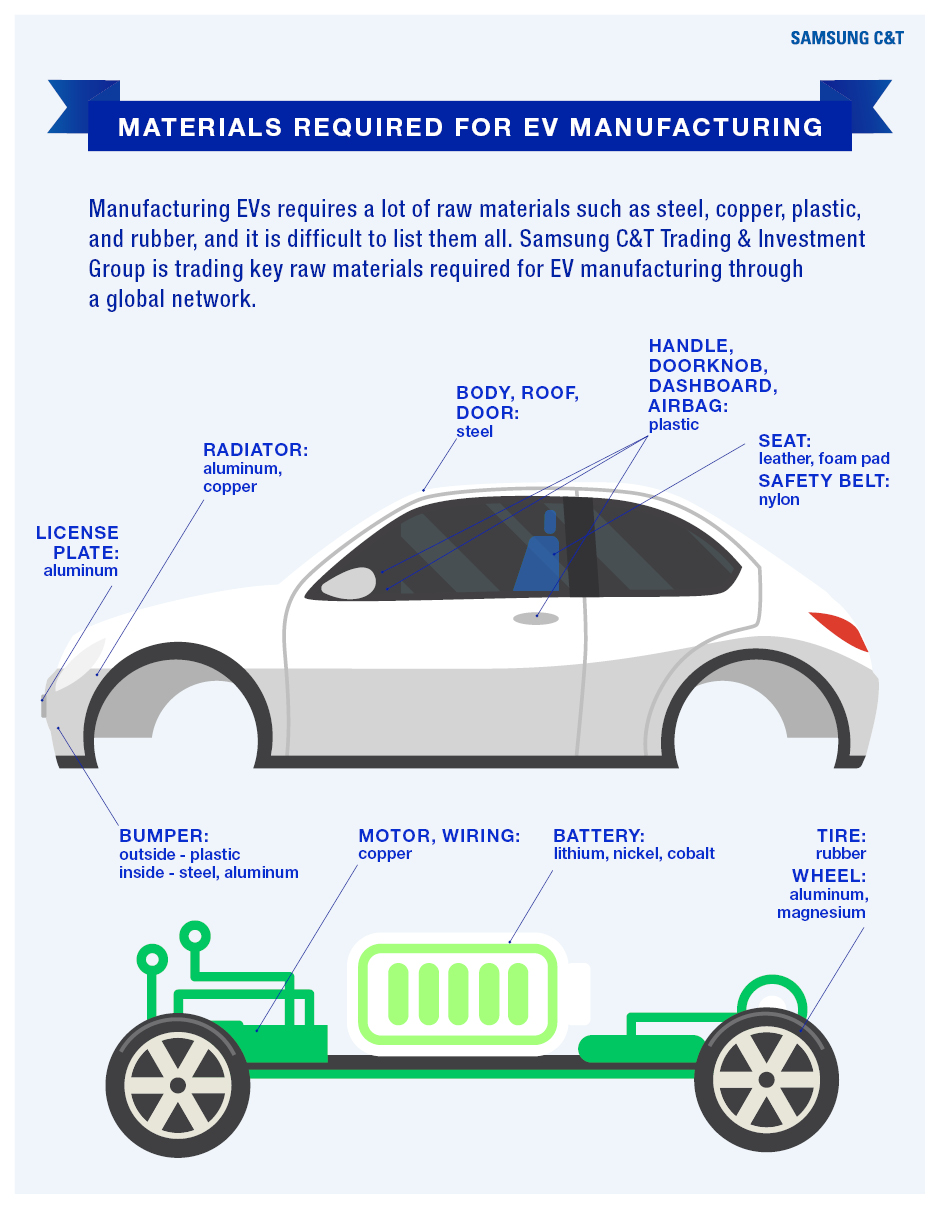 The material world of EVs
EV manufacturing is one of the world's largest among industries that consume raw materials. There are various types of materials used in making these vehicles, ranging from metals such as steel, cast iron, sintered metal, copper, zinc, and aluminum to nonmetals like rubber, glass, plastic adhesives, and fibers.
Samsung C&T Trading & Investment Group trades key EV materials, including steel for the vehicle itself, as well as lithium, nickel, and cobalt for EV batteries. Naturally, these core material markets are generally affected by EV demand. It is therefore vital to secure enough of these materials and strengthen the supply chain required to manufacture EVs in order to ensure that they are affordable for the mass market.
This is where Samsung C&T comes in, with the company paying close attention to the market to try to stabilize supply and its role set to become even bigger as demand for EVs soars. In addition to supplying raw materials related to EVs, it is also actively considering opportunities to participate in related industries that are expected to grow significantly, such as EV charging facilities.