Following one enormous hurdle after another since the outbreak of COVID-19, supply chains have continued to face major challenges.
At the center of many supply chain battles is the shipping container — of which there are over 20 million crossing the globe at any time. Supply disruptions have led to containers blocking up ports around the world in recent years.
You might think of a shipping container as a "large, steel box that can carry tens of thousands of pounds of cargo." But not all containers are equal, and they aren't even all transported by sea. Let's discover more about these containers and why a trading company needs to know all about them!
As we noted previously, the shipping container was born in 1956, offering an efficient and even revolutionary cargo loading and unloading solution.
One of the most important factors ensuring the global efficiency of supply chains has been the standardization of shipping containers – the International Organization for Standardization (ISO) standard ensures most shipping containers are either 20-foot or 40-foot containers. Being the same size and equipped with the same corner fittings allows containers to be lifted by any crane in the world and moved from ship to port before being loaded on to other forms of transport like trucks.
According to the ISO, "the extraordinary growth of global freight handling and distribution capacity can be explained by one thing only – the standardized freight container."
Diverse cargo means diverse containers
There are reported to be 65 million shipping containers around the world, but not all are the same. As well as varying size standards, there are numerous kinds of containers based on the type of cargo they carry.
Dry storage containers are the most common type, but there are also similar containers with flat rack, half height, open top, and open side designs. In addition, refrigerated containers, also known as reefers, are needed for temperature-sensitive cargo. And there are other transport containers designed for transportation by airplane.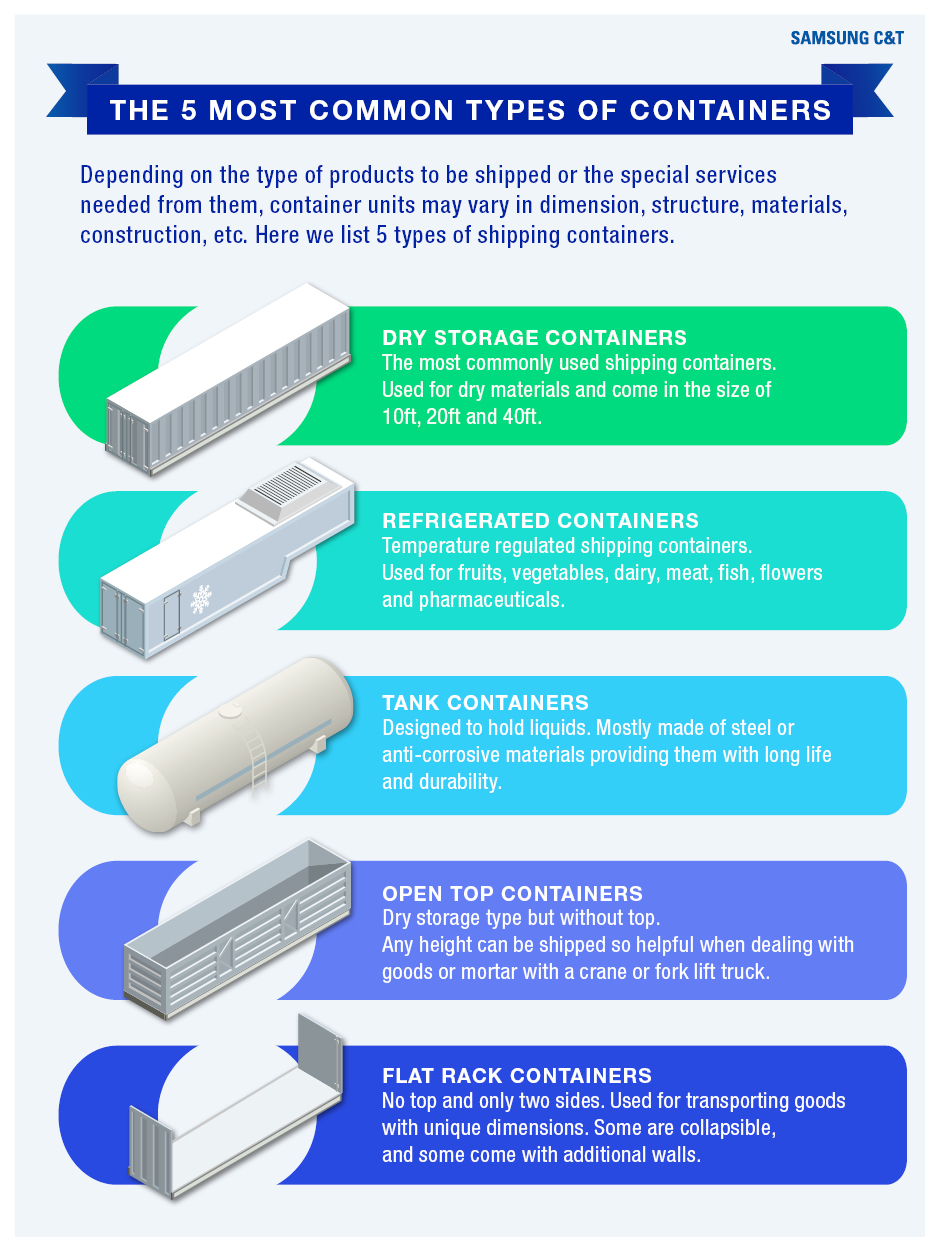 A delicate balance disrupted
There have been shortages of various commodities and materials during recent years – as well as a container shortage that can be traced back to the start of COVID-19. Because of a reduced number of ocean freight vessels due to lower logistics demand and congested ports, some containers have been left empty at their destination, while other full containers have been backed up waiting to be unloaded.
Experts are not expecting the container shortage to be resolved in the near future, but there is hope in the form of digital technology. So-called smart containers are expected to provide clues to improved supply chains because they are equipped with sensors and GPS tracking. Such innovations can enable real-time monitoring of key data, including temperature and humidity management and accurate location control. Because of these strengths, the use of smart containers is expected to gradually expand mainly for items that shippers or shipping companies need, such as pharmaceuticals, fresh refrigeration, chemical products, and electronic products.
Given the benefits, it is expected that that the world's smart container fleet will expand eightfold over the next five years. One research and consulting firm estimates that only 3.6% of the global container equipment fleet was fitted with smart technology devices as of the end of 2021.
Where does Samsung C&T fit in?
For trading companies, the rise of smart technology is significant. With more shipping data becoming available, traders can better manage logistics, relationships, and forecasting.
Samsung C&T T&I Group, which has a strong global network, is providing inventory management logistics services such as overseas Vendor Managed Inventory (VMI) to improve overall difficulties in the global supply chain. Through this, T&I Group not only improves lead time, but also actively supports customers to solve supply chain issues using inland transportation. In addition, by utilizing the logistics expertise of the T&I Group, it is preparing and operating a plan to solve customer logistics problems through methods such as bulk conversion and bulk integration of container ships.
Yet, not only technological innovation, but also personal expertise and negotiating power remain vital. Almost all freight moves under contracts, which may last for months and guarantee a certain number of containers. Samsung C&T will continue to strive to provide comprehensive business solutions such as global trading, logistics services, and supply chain development for customer convenience.