Kenya may be renowned for its natural scenery and wildlife, but the capital Nairobi has also become a thriving urban hub for international organizations and multinational companies. That has created a cosmopolitan atmosphere in the city, where Samsung C&T Trading & Investment Group has operated an office since 2012.
As we reboot our Office Spotlight series, we're starting by shining our focus on Samsung C&T's Nairobi Office, which mainly deals with chemical trading, including fertilizers and synthetic resins – but as we shall see, those areas of interest could be expanding.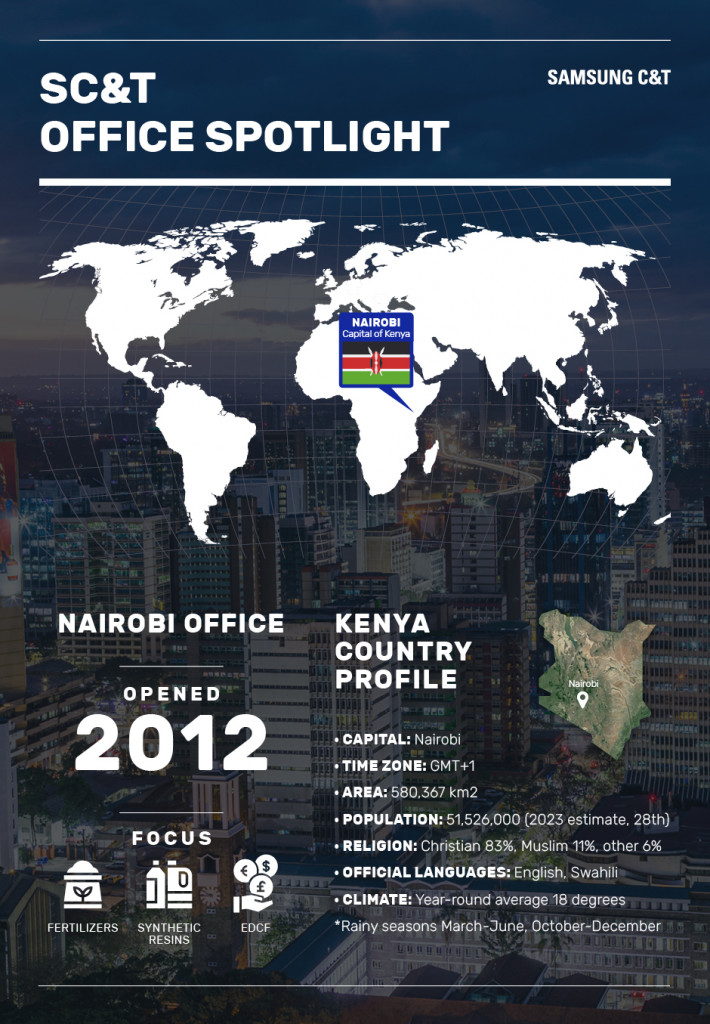 A unique place to do business
Nairobi is located on a plateau at an elevation of around 1,700 meters. Even though it's close to the equator, the weather is relatively cool throughout the year.
"The cool wind blows often, so the weather is so good that sometimes I think it's similar to California, which is famous for its pleasant weather," reflects Hwang Cheol-soon, head of the Nairobi Office.
But Nairobi has certain attractions that you won't find in California. Maryanne Njenga, who handles the office's accounting and administration, says, "A business trip to our Nairobi office will allow you to experience a safari for a while. It is because Nairobi National Park is on the way from Nairobi Airport to our office. It is a place where you can see wildlife like lions, cheetahs, and giraffes close to the city." Incidentally, the focus on protecting wildlife also means that plastic bags are banned in Kenya, boosting the sustainability of local business operations.
Moreover, the atmosphere in the office itself stands out in the opinion of Jackson Mutua, a project manager who has been based at the Nairobi Office since 2017. "I really enjoy working at Samsung C&T. Opportunities to visit many countries are available, educational opportunities are diverse, and we openly talk about anything and everything. It seems like a very effective way to build teamwork," he insists.
Seeking and seizing opportunities throughout the region
As one of dozens of Samsung C&T offices dotted around the globe, the Nairobi Office is at the forefront of sales activities, performing various functions and essential roles in the field based on the team's accumulated capabilities.
They have to cope with challenges, according to Hwang, who explains, "In the case of fertilizer, annual bidding is announced every year in Ethiopia, which requires sensitivity to numerous political, economic, and social variables. For synthetic resins, customer management has become very important due to deteriorating economic conditions such as the recent shortage of dollars in the region."
Agility and close management are needed to manage these situations, but the office should also keep its eyes wide open because it actually looks after business interests in seven countries: Kenya, Tanzania, Uganda, Rwanda, Burundi, Ethiopia, and South Sudan.
"I have many business partners in Tanzania, so I tend to go on business trips often. Sales activities were not easy in recent years due to the pandemic, but now that I can move freely, I think my work is gaining momentum," says Adrian Anzala, who is in charge of the Nairobi Office's fertilizer and synthetic resin business in Kenya and Tanzania.
A bright outlook for the Nairobi Office
One of the Nairobi Office's areas of interest is Samsung C&T's Economic Development Cooperation Fund (EDCF) business.
"EDCF agendas are expected to be continuously developed and announced in the future. And, first of all, we are putting our efforts into winning the bids that will be announced this year," says Hwang.
Pointing out that Kenya is open to introducing new technologies, he adds, "Recently, interest in various new businesses and technologies, such as electric vehicles and the digitalization of government services, is increasing in Kenya. We are constantly checking the possibility of related business opportunities."
Ultimately, such successes will be built on the sincerity and capabilities of the Nairobi Office team, along with their willingness to try new things with the active support of Samsung C&T's head office.