In the relentless heat of the summer sun, people look for ways to cool body and soul. A trip to a water park can be just what we need, allowing us to play, swim, and splash in cool, refreshing water.
Did you know that Samsung C&T Engineering & Construction Group, renowned for its skyscrapers, civil infrastructure, plants, and residential facilities, also builds water parks? With a track record of constructing places where people can enjoy the summer, we invite you to take a look at the world of water parks.
Water parks around the world
Before we take the plunge into a Samsung C&T water park, let's look at water parks around the world. These parks began to flourish with the appearance of water-centered thrill rides and giant water slides. Beginning with the first such slide at the 1906 International Exhibition in New Zealand, a wide variety of slides and rides have been designed. Just over 70 years later, in 1977, the world's first purpose-built water park called Wet 'n Wild was opened in Florida in the United States.
While many water parks are outdoors, some are fully or partially indoors. The world's first indoor water park, Alpamare, opened in Switzerland in 1977, followed by more in European countries, including France and the Netherlands, in 1984, and in Canada in 1985. An interesting note is that these early indoor water parks are still in operation today.
Then, which is the world's largest water park? According to Discovery, the largest water park in the world is the Aquaventure Water Park in the Bahamas. Approximately 570,600 square meters in size, the park receives roughly 1.9 million visitors a year. It has around 20 swimming areas and 14 differently themed pools.
Water parks sculpted by Samsung C&T
We turn our attention now to water parks crafted by Samsung C&T. Opened on July 12, 1996, after about 18 months of construction, Caribbean Bay is Korea's first and best-known water park. With a total area of 152,058 square meters, it is the first of its kind in the world to have connected indoor and outdoor sections. From the day it first opened through to 2021, the total number of visitors was 32 million.
To create a water park that befits the name, Samsung C&T employees went to the Caribbean to make models of local rocks to use in the landscaping in Korea. Also, the indoor Aquatic Center was constructed so that no columns need to be used inside, giving a sense of open space. As this is an indoor area, ventilation is very important, so Samsung C&T specially manufactured ducts in the shape of triangular pillars to better harmonize with the Caribbean theme.
At a water park, where people are often barefoot while moving across wet surfaces, safety must always be the priority. Floor surfaces were specially made to prevent visitors from slipping. First, wet concrete was poured. Then, before it cured, large lumps of rock salt were scattered over the still-wet concrete. Finally, after the concrete cured, the salt was dissolved with water, creating a naturally non-slip floor.
In the kiddie pool area, Samsung C&T made a non-slip finish made of silica sand for areas where children move around to prevent falls. Furthermore, drains that would usually be placed on the floor were instead put in the wall to avoid accidents.
It has now been more than 25 years since Caribbean Bay first opened, but the sculptures and water slides in both the indoor and outdoor spaces have maintained their structural integrity, while the water filters and wave pool control system are well maintained and in good working order.
No fewer than 36 separate filtration systems that process about 15,000 tons of water each day have been installed as a perfectly integrated system, so that even now the best water quality is found throughout the park.
The outdoor wave pool, a perennial visitor favorite, is operated from a control room. Building this facility was very difficult, but Samsung C&T executed the project by proposing a new construction method through consultation with the design company. This method has since been studied and adopted by overseas designers, and the wave pool control room is still in operation without incident after more than a quarter century.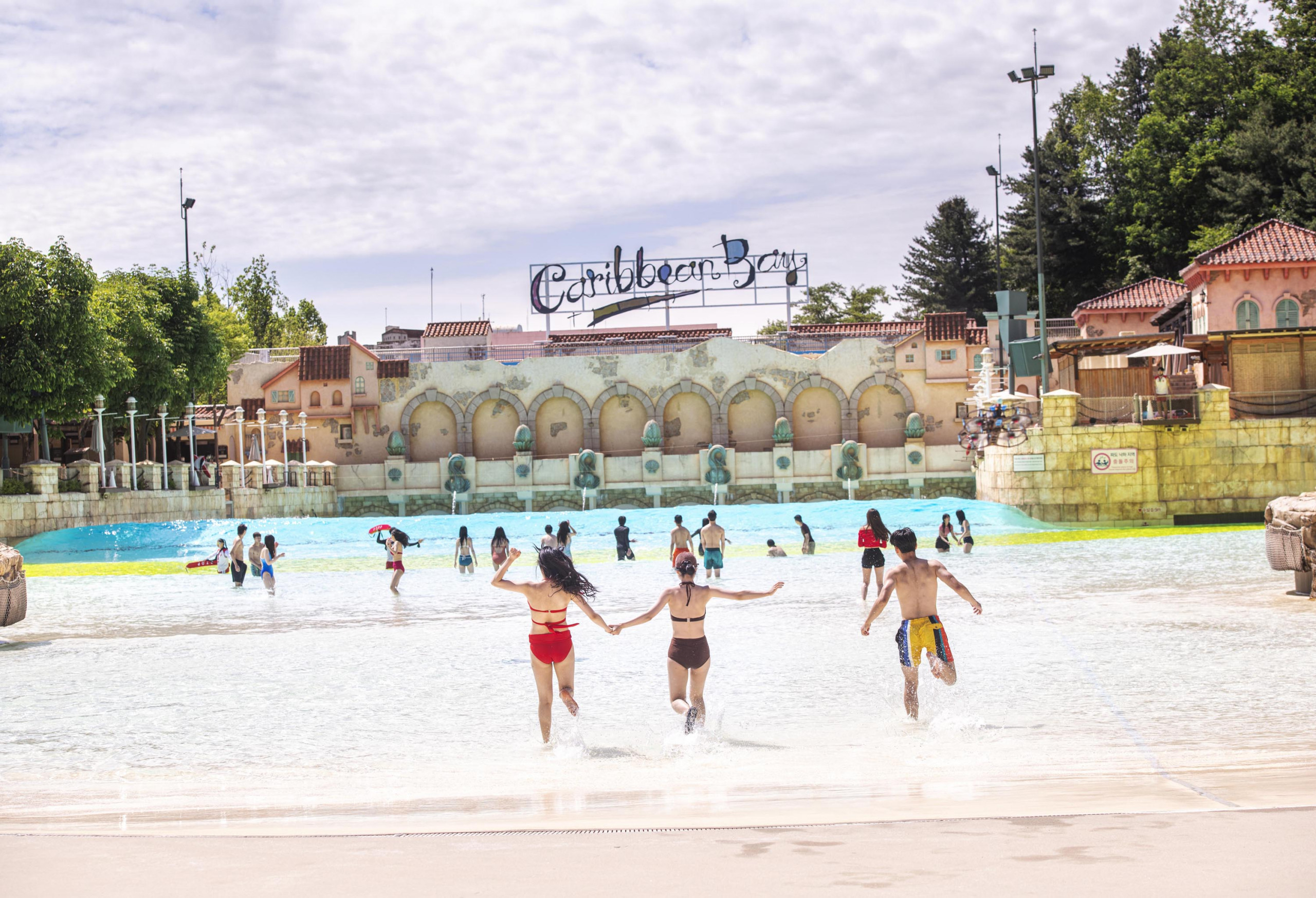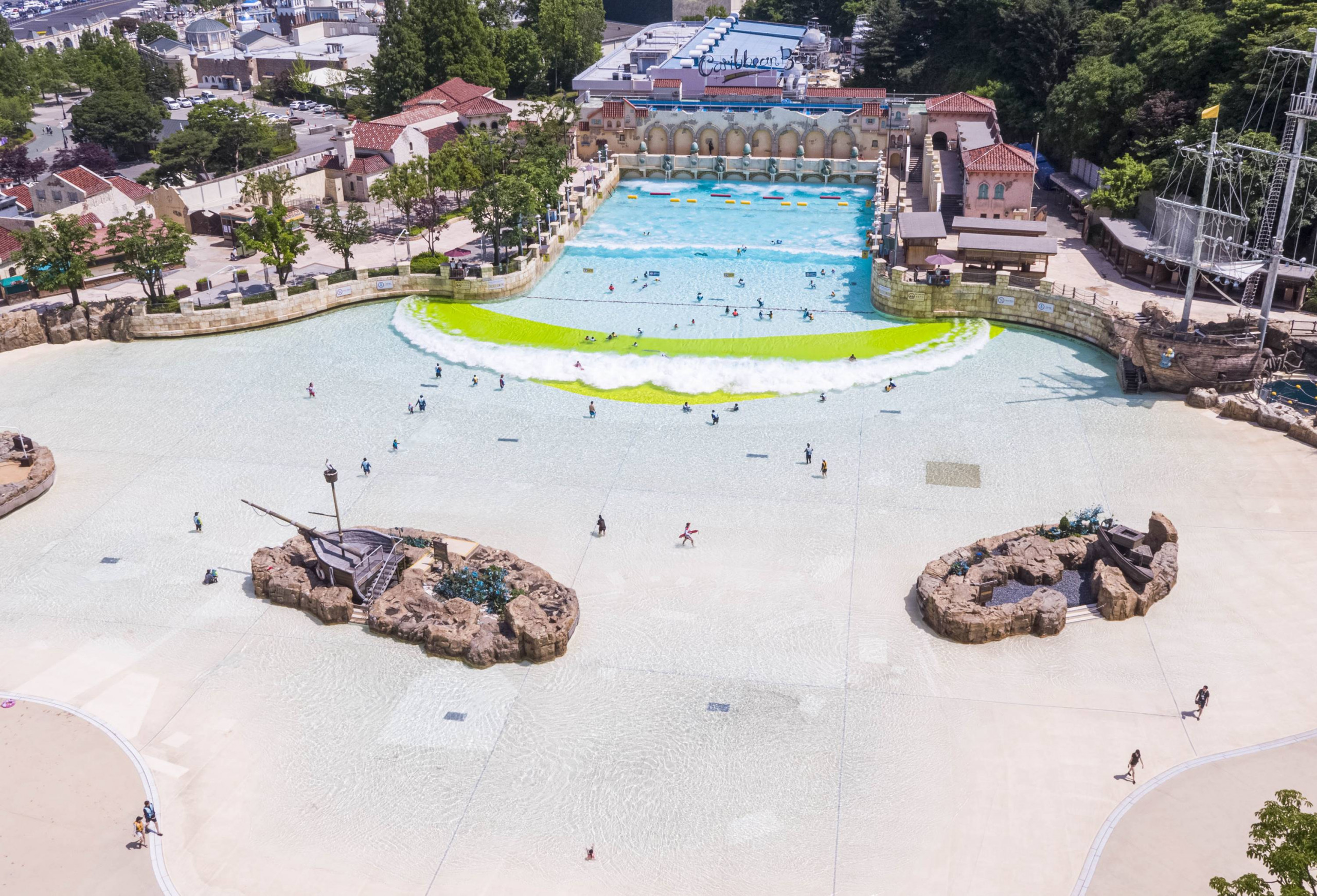 After its successful completion of Caribbean Bay, Samsung C&T E&C Group also built a water park in Taiwan. Located in Taichung City, midway between Taipei and Kaohsiung, Mala Bay is a large water park that can receive up to 10,000 visitors at a time on a site of about 69,400 square meters. The largest water park in Taiwan, its construction began in July 1999 and it opened in July 2000.
Mala Bay sits within the massive Lihpao Resort, where Samsung C&T E&C Group has also built an amusement park and theme park.
Constructing facilities that enrich our lives
Apart from water parks, Samsung C&T is also involved in constructing hotels, leisure facilities, golf clubs, and parks that enrich our lives. For example, the company built the Shangri-La Hotel in Ulaanbaatar, Mongolia, and the Merdeka 118 Tower, which houses the Park Hyatt Hotel.
Other leisure facilities that the E&C Group has built include Korea's premier theme park Everland, which is operated by Samsung C&T's Resort Group. And in Suwon, Korea, it created the beautiful Gwanggyo Lake Park that has brought joy to the local residents.
What facilities to enrich peoples' lives will Samsung C&T build next?