If you have never flown to Korea before, it is worth getting a window seat for your first visit to the country's biggest air terminal, Incheon International Airport. For when you descend through the clouds, you are instantly greeted with a very unique sight indeed: dozens of small, mountainous, tree-covered islets and busy boats navigating their way around them.
Despite its name, Incheon International Airport is not actually located in Incheon proper, but rather on Yeongjong Island, a reclaimed piece of land that connects three islands off the mainland: Yongyu, Sammok, and Sinbul islands.
Even at its narrowest point, the sea that divides Yeongjong Island from the mainland is over 2km, and is a mix of extremely deep sections of saltwater and muddy tidal flats. Until relatively recently, the idea of building a road crossing to Yeongjong Island seemed like an impossibility.
The construction of the airport in the 1990s, however, made a road crossing an absolute necessity. Now, 16 years after the airport first opened, there are two. And they were both built by Samsung C&T.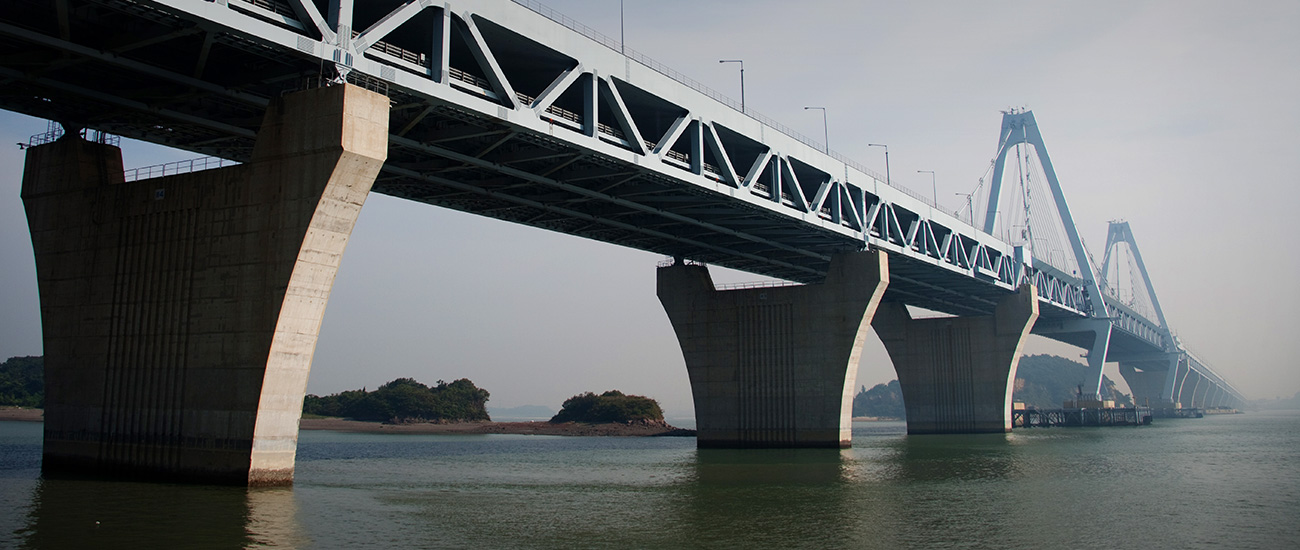 Numerous external obstacles stood in the way for the contractors. For a start, captains and pilots sailing in and out of Incheon port needed to know that the new bridges would not interfere with their operations. Large bridges require tall pylons, which could also potentially pose a risk to air traffic when building near an airport. And to add to the complication, the bridges also necessitated construction on tidal flats.
The first, built a year before the airport opened, was the 4.4km Yeongjong Bridge. With both highways and rail lines on its decks, it was the world's first self-anchored suspension bridge. It was built high enough to avoid obstructing ships – 10,000-ton sea vessels can pass underneath it. Care was also taken to avoid interfering with flight paths. And in order to solve tidal flats issues the company used its deep cement mixing experience (currently being put to use in Hong Kong's airport expansion).
Yeongjong Bridge's designers were keen to make the structure architecturally attractive – and distinctly Korean as possible, seeing as it is one of the first structure many visitors to Korea encounter. The shape of the cable and girders were intended to resemble the eaves of a hanok, a traditional Korean slate-roofed house.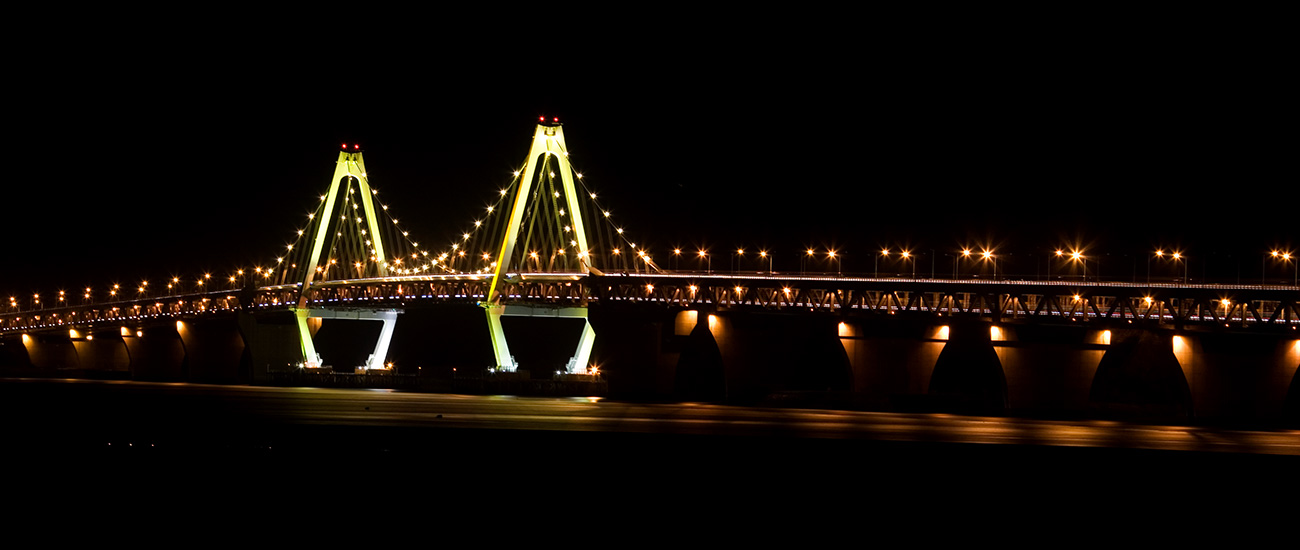 The bridge has now become a tourist attraction in its own right. It is a perfect spot to enjoy a view of the sunset, and after dusk, the bridge is illuminated by glowing blue lighting. At night, meanwhile, it is lit up with colors that change with the seasons: green heralds spring, white is for summer, yellow represents fall and winter is a radiant red.
The bridge has quickly won domestic and international recognition. In 2002, it became the first Korean structure to win the Japan Society of Civil Engineers' prestigious Tanaka Award.
As road and rail traffic to Yeongjong steadily increased in the mid-2000s, it soon became clear that a second road crossing would be needed. The result, after many years of planning, was the 21.4km cable-stayed Incheon Bridge. The new bridge allowed travelers from Southern Seoul to reduce their journey time to the airport by around 30 minutes, and relieve the burden on the overworked Yeongjong Bridge.
Samsung C&T's Engineering and Construction Group Professional Manager Young Woo Kim worked on the Incheon Bridge project. He explains that unlike Yeongjeong Bridge, the Incheon Bridge project posed multiple shipping issues, as it was constructed across the main route of Incheon Port's southern section.
Kim notes that high-tech solutions helped solve the problem. He says, "We made sure to provide plenty of room between pillars for even wider boats to sail through. We also installed an anti-collision signaling system. Both measures are of great help to boats navigating in the area."
Kim also explains that the unique tidal patterns in the region called for special construction measures. He notes, "It became quite a precise operation for us, as the tidal flats we were building on have fast-flowing waters that move at river-like speeds. We had to time our movements carefully, too. When the tide was low, certain parts of the bridge became cut off, so we had to wait for the high tide to ferry staff and equipment to and from these sections."
Marquis Who's Who-listed Dong Kyu Park, deputy general manager in Samsung C&T's Bid Design department for Bridge and Structure, was a key member of the Incheon Bridge team. Park helped make the structure earthquake-proof, using PSC (Pre-Stressed Concrete) technology.
Park explains, "PSC bridges are built with a special type of steel wire that helps structure remain bend-proof should an earthquake strike. The technology is even suitable for use in places like Japan, where powerful earthquakes are relatively frequent."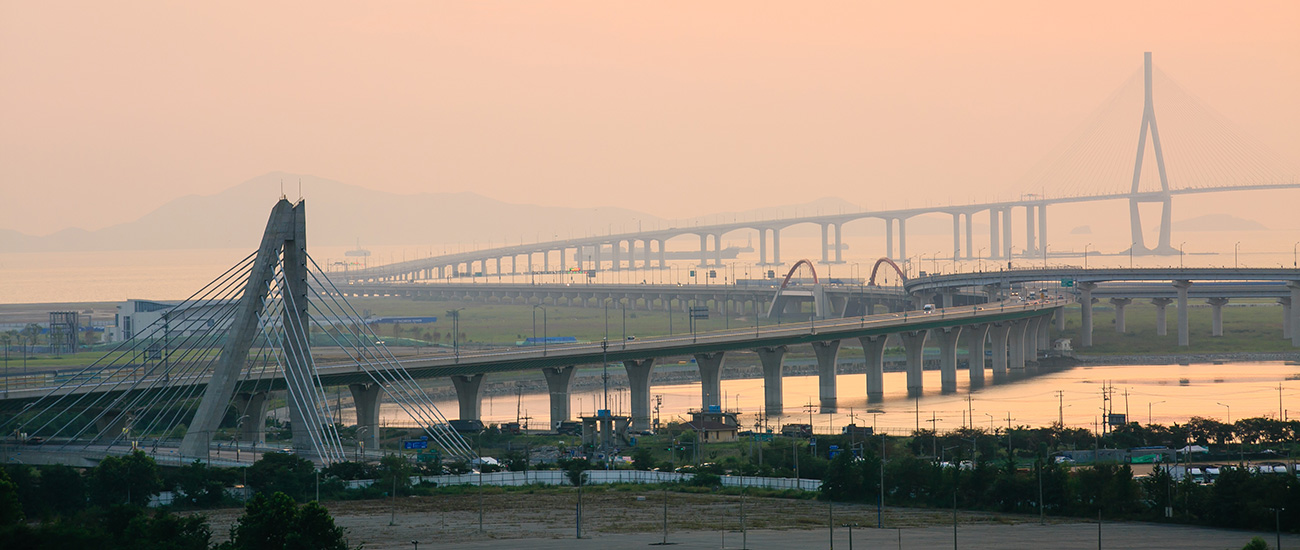 With a second passenger terminal at the airport set to open later in 2017, boosting Incheon's annual capacity by 18 million passengers, the need for sturdy, multifaceted, multi-lane road and rail crossings has never been more apparent.
Fortunately, thanks to Samsung C&T's bridge-building prowess, connecting travelers to one of Asia's busiest airports is now faster and more efficient than ever.