A nation's main airport and the infrastructure that connects it to the capital city act as a kind of welcoming gateway to new visitors. The first places a new arrival usually sees upon entering a country are the inside of its airport and the road or rail link to the nearest urban center.
In this way, Incheon International Airport, Yeongjong Bridge, and Incheon Bridge all form the gateway to Korea and Seoul. But this is not the only reason for their significance: the construction process of each of them involved engineering feats, and the visual result is their aesthetic beauty. As testimony to that, we share this video for you to enjoy.
Incheon International Airport – happy landings
In early 2001, ahead of the 2002 World Cup football competition co-hosted by Korea and Japan, Incheon International Airport opened its doors and runways. Sitting on a part of Yeongjong Island that was reclaimed from the sea just off Korea's west coast, it took over most air traffic from Gimpo International Airport, Korea's major passenger hub for about 30 years. At that time, Samsung C&T Engineering and Construction (E&C) Group built Terminal 1 of Incheon International Airport.
A second terminal opened in early 2018, just before the PyeongChang Winter Olympics. Even now, the airport is still growing: construction on Phase 4 to expand Terminal 2 and add another runway is set to be completed in 2024.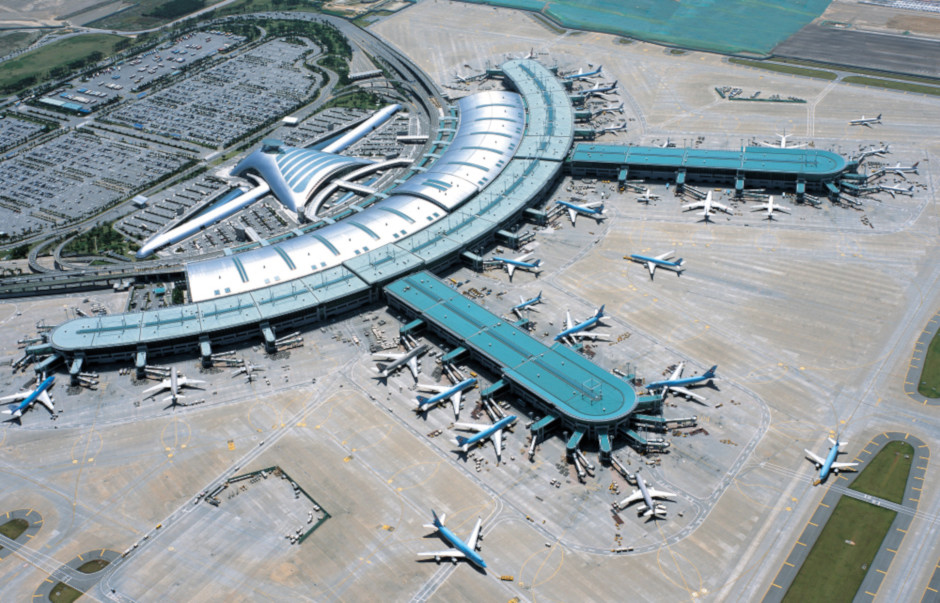 The design for Incheon International Airport was by Curtis Fentress, an award-winning architect whose other works include three other international airports in the United States, four museums, and a football stadium. Fentress likes his projects to reflect the regional, cultural, and historical characteristics of their locations, so he adopted the curves of the eaves of a traditional Korean tiled roof to the shape of the airport and used aluminum and glass to recreate the grid pattern of wooden framed windows in a Korean traditional house.
To realize his idea, Samsung C&T employed a new construction method that enables the assembly of huge structures in advance and the fastening of metal panels using an open-joint method after delivering them to the site. This technique helped pave the way for the building of Dongdaemun Design Plaza.
Opened after all these efforts, Incheon International Airport won the Airport Service Quality award for Best Airport in Asia-Pacific for 12 consecutive years from 2005 to 2016, as chosen by Airports Council International.

Self-anchored: Yeongjong Bridge
After landing at Incheon International Airport, if you're going to Seoul by road or rail, you will most likely cross Yeongjong Bridge. Samsung C&T E&C Group took 5 years to build it. In order to build a bridge tall enough for 10,000-ton ships to sail safely underneath and stable enough to withstand strong sea winds, some unusual feats of design and engineering were applied. The result is this "3-dimensional self-anchored suspension bridge," and Samsung C&T E&C was the world's first builder of its type.
More than just a crossing point for cars and trains heading to Seoul, Yeongjong Bridge is also an aesthetically pleasing monument. It's a good place to watch the sun go down over the West Sea and its cable and girders were designed to remind viewers of the gentle slopes and contours of the Korean traditional Hanok roof.

Korea's longest: Incheon Bridge
If you're traveling to Songdo City, or any of Korea south of Seoul, you'll probably spend at least a quarter of an hour on Korea's longest bridge, Incheon Bridge. Samsung C&T E&C Group completed its construction in only 52 months. Once again, various challenges had to be met in its building: most importantly, the bridge crossed the main southern route into and out of Incheon port, so Samsung C&T E&C made the deck sufficiently high and the main span wide enough for ships to freely pass through.
After opening in 2009, this cable-stayed bridge over the sea received the 2010 Tanaka Award for Excellence in Bridge Design and Construction from the Japanese Society of Civil Engineers, and in 2011 it was chosen as a finalist in the Outstanding Civil Engineering Achievement Award Competition by the American Society of Civil Engineers.
Like its counterpart on Yeongjong Island, Incheon Bridge invites the viewer's gaze. Its striking bends, curves and towering height of 230.5m can be enjoyed from many different angles.

Viewed together, Incheon International Airport, Incheon Bridge and Yeongjong Bridge act as a gateway welcoming people to Korea. Samsung C&T E&C Group participated in all three projects. Today, the company continues to bring together technology, engineering and aesthetics in new public infrastructure projects both inside and outside Korea.