Global demand for LNG is predicted to surge by 20% or more this year. European countries in particular are shifting away from burning coal, which emits more carbon than natural gas. LNG is seen by many as a better energy source than oil and coal in terms of carbon emissions and is therefore a step on the way to achieving carbon neutrality. This ongoing shift in the energy industry is leading to investment in LNG storage infrastructure, namely LNG terminals.
LNG terminals do more than simply store LNG. This article will look a little deeper at LNG terminals and the LNG terminal construction projects of Samsung C&T's Engineering & Construction Group.
The critical role played by LNG terminals
LNG terminals are indispensable facilities to using liquefied natural gas. Australia, Qatar, and the United States are the world's top three LNG exporters, who have to transport their product to clients in distant countries. Also, countries that import LNG should be able to store it and make it usable. As such, LNG terminals are needed on both the exporting and importing sides.
LNG terminals perform four major functions: Receiving and unloading of LNG from ships, or reception; holding it in giant concrete tanks, or storage; turning the liquefied gas back into a vapor, or regasification; and sending it on to natural gas pipelines for local consumption, or transmission.
Natural gas goes through two stages – liquefaction and regasification – before reaching users. But why liquefy natural gas and then vaporize it again? Natural gas is liquefied for the purpose of shipping and storage. This is because the volume of natural gas in its liquid state is about 600 times smaller than in its gaseous state, so more gas can be transported and stored in relatively smaller containers.
Liquefied gas is gasified again before it can be transported by pipelines to natural gas-fired power plants, industrial facilities, and residential and commercial customers. The reason is that a tank lorry is necessary for LNG transportation and it is economical to use a gas pipeline to handle large amounts of it.
There are advantages to a company owning its own LNG terminals, the most obvious being not having to rent one from another company. So it is recommended to own an LNG terminal for stable LNG acquisition, storage, and transmission. And it is the current rise in demand for LNG that is leading the drive to build more of these facilities.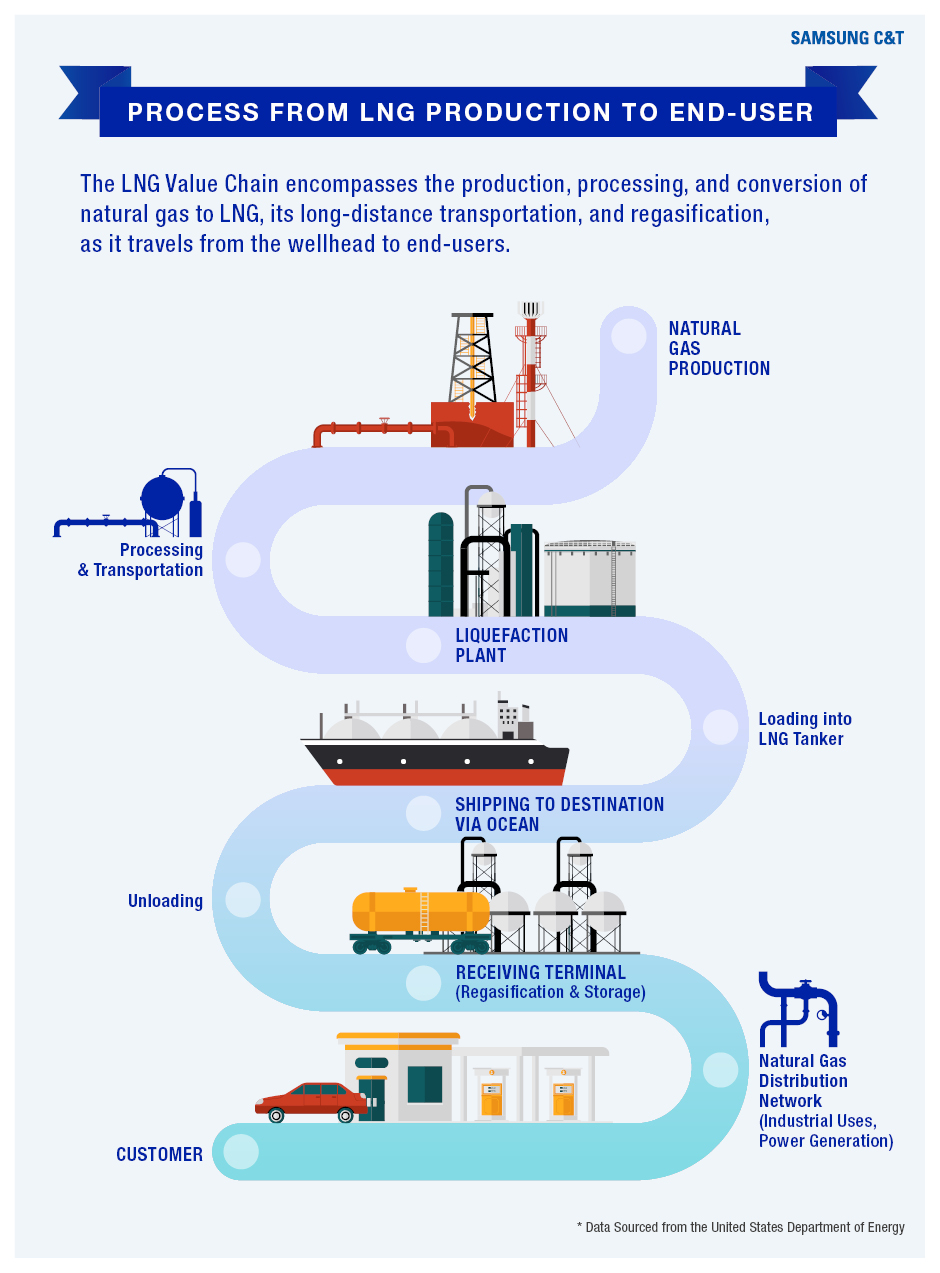 LNG terminal construction projects
Samsung C&T is picking up construction projects to build LNG terminals through competitive bidding proposals, fueled by its existing experience in LNG project and port construction.
For example, in March 2021 Samsung C&T's Engineering & Construction Group signed an exclusive contract to construct an LNG export base in Qatar with a total value of USD1.67 billion. The client is Qatar Petroleum, and the project involves the building of three LNG storage tanks, three port docking facilities, and transportation piping. For this venture, the Group will carry out the engineering, procurement, and construction (EPC) exclusively over a period of 57 months. It is expected to be completed in November 2025.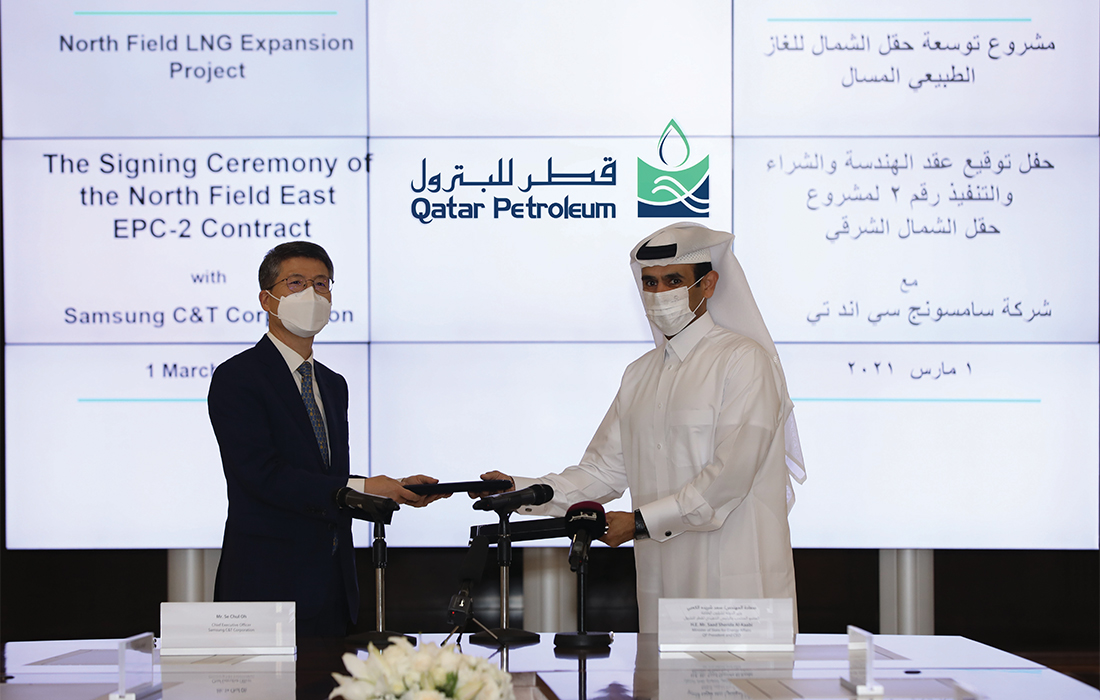 Previously, in June 2019, Samsung C&T's construction division won an order for the construction of the Thi Vai LNG Terminal, the first such facility in Vietnam. The client for this order is Petrovietnam Gas Corporation, the largest natural gas company in that country.
When completed, the Thi Vai Terminal will supply natural gas to Vietnam's Nhon Trach Unit 3/4 LNG gas complex thermal power plant. The total cost of this project is USD179.5 million, of which Samsung C&T's stake is about 61 percent, or USD109.5 million. The terminal is expected to be completed in October this year after a construction period of 40 months.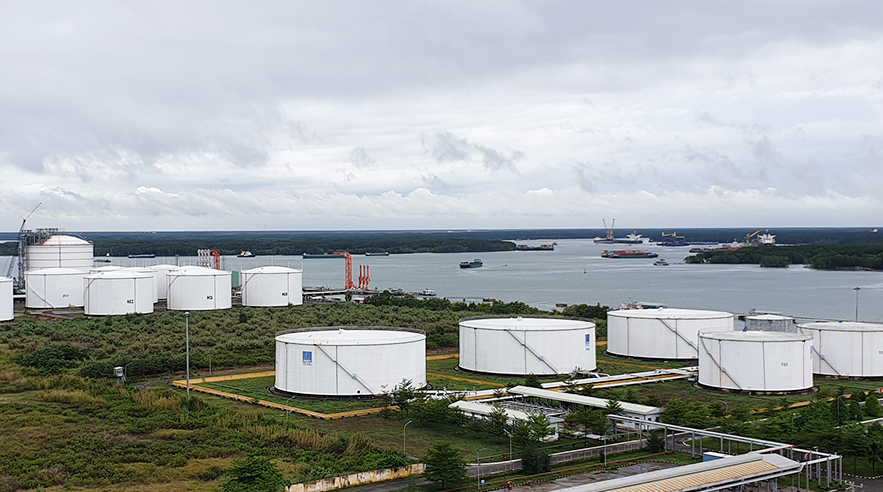 Samsung C&T E&C Group is expanding its business area to the construction of LNG import and export bases. Samsung C&T plans to expand its participation in related projects in the future, reflecting the increasing importance of LNG terminals in the transition away from burning oil and coal and towards more eco-friendly energy projects.