The end of the year is a time of gift-buying and giving. It is often hard to make a choice about what to give a loved one – or how to treat yourself with something nice. This is especially true when it comes to buying clothes and accessories, so it is good to seek advice from an expert, someone who knows what they are talking about. 
Samsung C&T's Fashion Group designers are here to help! Here they will introduce some of their favorite winter fashion creations. It is not often that fashion designers can toot their own horn, but in this case, they have reason to feel pride. 
Looking and staying warm in 8seconds
Fast fashion label 8seconds responds to the consumer needs of rapidly changing lifestyles, and its designers proudly work to create new items that capture the spirit of the moment while also being practical and attractive.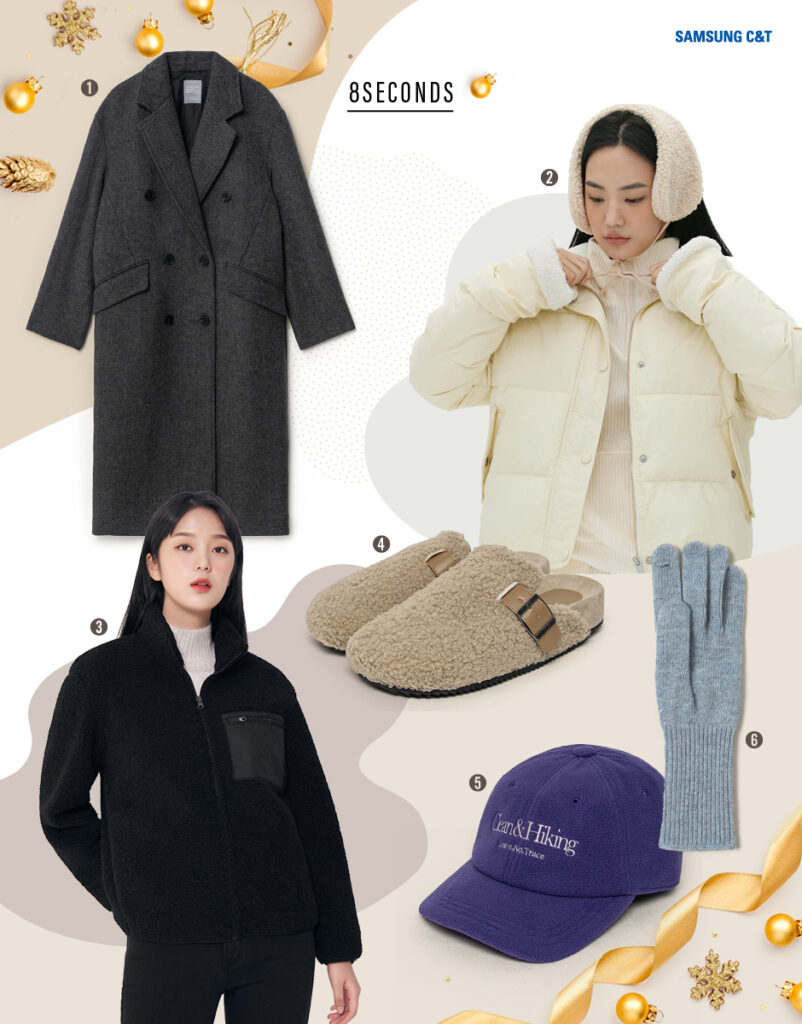 Seeking a classic look? 8seconds designer K recommends the ash-colored wool-blend twill coat, with its double-breasted front and notched collar. "This is a long coat with a relaxed fit," says K. "It goes well with anything because it is a subdued gray color, but I strongly recommend styling it with a hoodie underneath and track-sole shoes!"
For something a little sporty, 8seconds' black or white boa fleece zip-up will embrace your loved one like a warm hug, zipping up all the way to just below the chin to keep the neck warm in a chilly wind. Designer K says, "It is something light and warm that you can wear indoors or when you go out for a walk," adding, "The small size is good for wearing as a layer inside a coat, and the large size looks good as overfit outerwear."
On cold winter days it is often the ears that get coldest, sometimes becoming red and painful. Earmuffs are a familiar way to keep them warm, but now they are not the only choice. 8seconds offers a charming beige bouclé ear scarf that sits on the crown of the head and can be tied under the chin. Likewise, feet can feel frosty even indoors when temperatures drop below a certain level. But thanks to 8seconds' shearling slippers in beige or brown, your loved one's toes need not turn blue.
8seconds designer L comments: "In cold weather I recommend this bouclé ear scarf and these cute and fluffy shearling slippers – they are perfect for adding a little sparkle to your everyday look."
Ever notice how it is difficult to use your smartphone while wearing gloves? L has experienced that problem and solved it, by designing a pair of wool-blend gloves with a hole in the knuckle of the index finger. They come in sky blue, light pink, beige or ash. She also recommends a lavender fleece ball cap to add a little style to daily wear. "Fingerhole gloves that make smartphone use easy and a ball cap with stylish lettering are obviously must-have items," says L.
Coats, bags and footwear: Beanpole Men and KUHO have you covered from top to toe
Traditional casual menswear brand Beanpole Men and minimal-contemporary womenswear KUHO also have you covered for year-end gift-giving, or expanding your own wardrobe.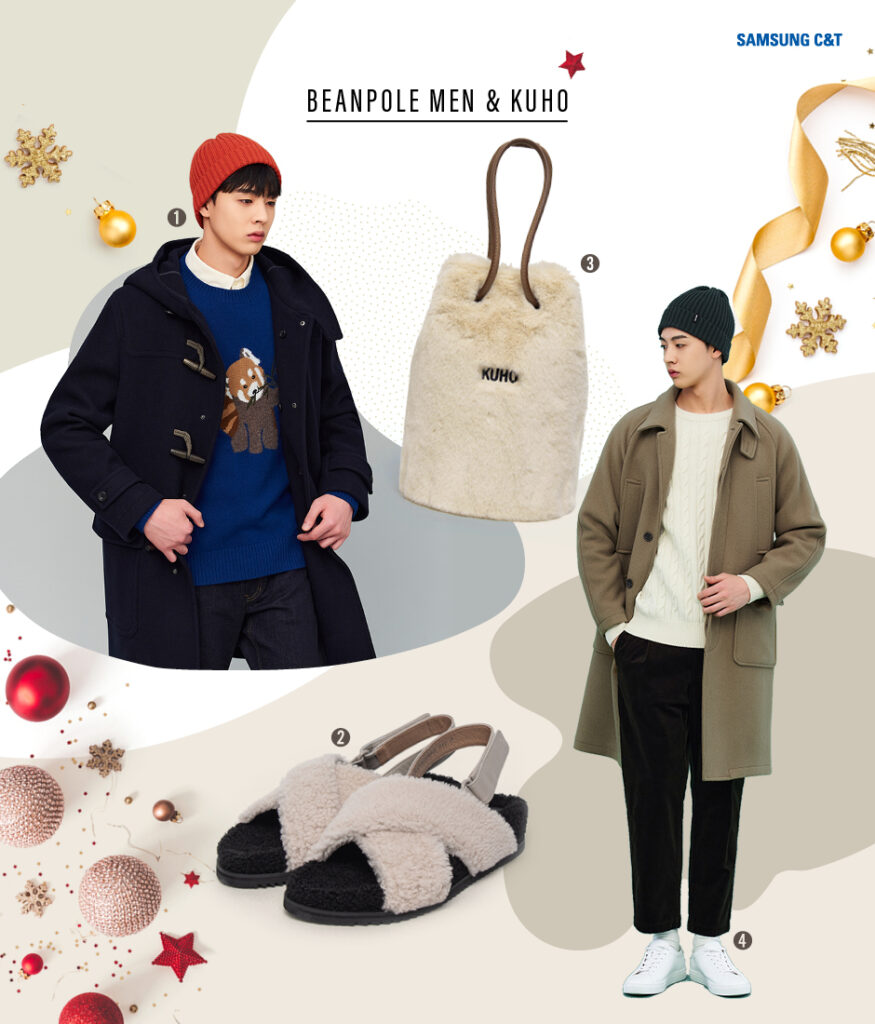 A duffel coat is a very practical garment and easy to style with just about anything. But a detachable 3-way duffel coat made of a luxurious wool & cashmere blend adds to the appeal. It can be worn with or without the detachable inner vest, which can even be worn alone. 
As Beanpole Men's Merchandiser P says, "This is Beanpole Men's top item, with an added luxury feel through the use of wool and cashmere." Describing its 3-way functionality, she adds, "The fleece vest is detachable and can be worn by itself, so it is as if hitting three birds with one stone. Style it with a cable sweater and wear it all through the winter."
Balmacaan coats are another great winter item, and Beanpole Men has a wool-blend model in olive green or ash gray. Merchandiser P is enthusiastic: "Balmacaan style is this season's hot trend. I wholeheartedly recommend this coat with the classic Balmacaan elements – raglan shoulder, outer pocket with flap, and even the collar details – interpreted in a casual style with Beanpole's own sensibility."
KUHO's designer Y offers styling tips in accessories, with Mustang X sandals in ivory and an eco-fur bucket bag in ivory or black. 
Speaking about the former, Y says, "I recommend these X sandals made of real shearling sheepskin. Despite the sandal shape, eco-fur has been used on the midsole so these will actually keep your feet very warm. They are perfect for a cute one-mile outfit!" 
Y is equally proud of the eco-fur bag: "With the KUHO logo embroidered in the middle, this is a bucket bag that is both simple and stylish, looking good with any outfit." She goes on to say, "The soft touch of the eco-fur is the attraction. It is an all-around must-have item that can also hold a lot of your stuff!"
These ten specially curated items recommended by the brand designers and merchandisers themselves are now available online at SSF Shop, Samsung C&T Fashion Group's website.