With attractions like Panda World, Lost Valley Safari and exhilarating rides like the T-Express, Everland has been the ultimate happy place for visitors young and old.
In addition to the regular fun-filled offerings, however, Everland also holds festivals throughout the year which present visitors with perfect ways to enjoy every season. From the Tulip Festival which welcomes spring in technicolor to the Snow Safari that shows a glimpse of frosty wildlife, these seasonal events transform Everland into a magical world of fantasy and adventure.  
Beginning with the successful introduction of our Rose Festval in 1985, a great variety of flowers have long played an integral part in shaping the seasons at Everland.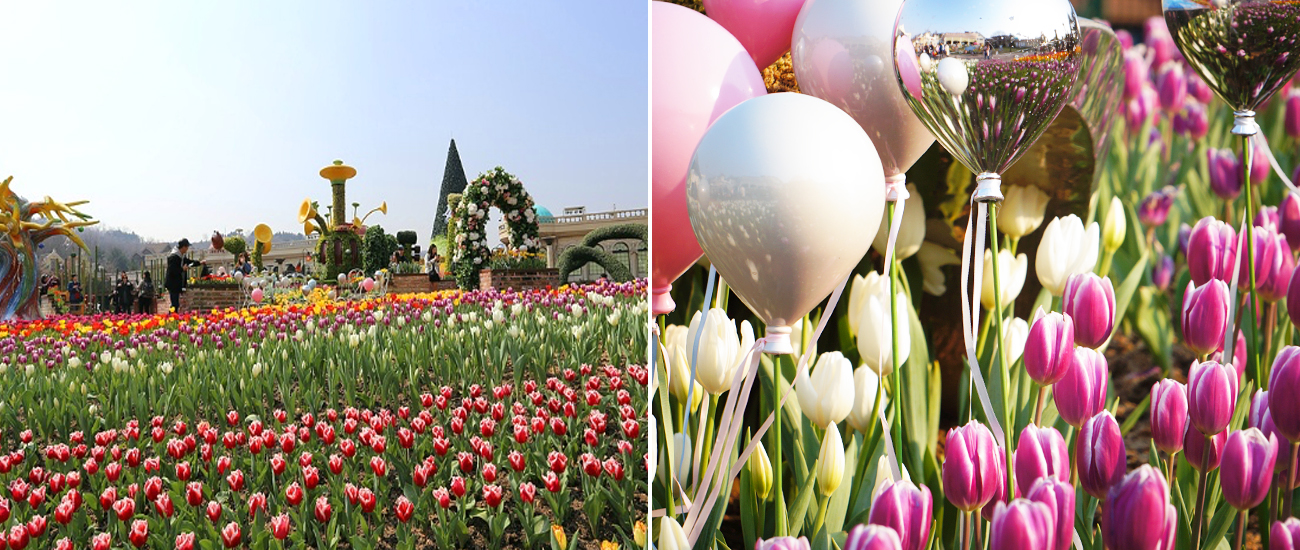 Tulips in particular have been central to Everland's blooming season, with the annual Tulip Festival running from March to April. The festival features over 1.2 million tulips, from more than 100 varieties – Apeldoorns, Synaeda Blues and Pink Diamonds to name a few. Visitors can enjoy the beautiful scenery created by these flowery wonders arranged in a series of lovely themes and walks at the Four Seasons Garden at Everland.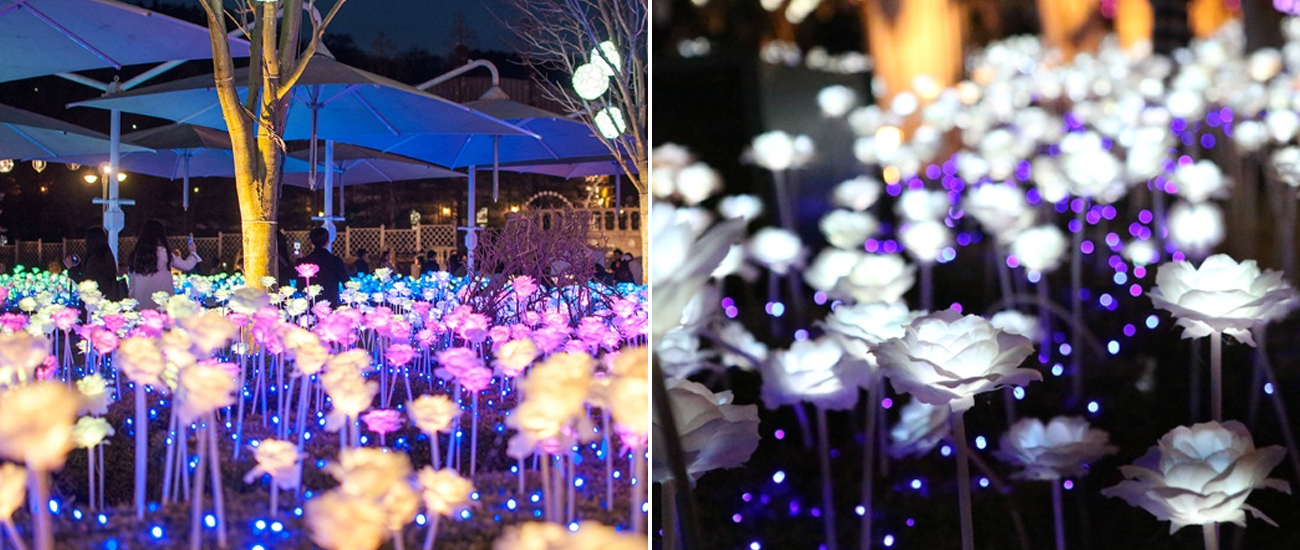 Other flower-themed attractions during spring include the Four Seasons Garden, Flower Street, Flower Magic Tower and the Musical LED Rose Garden, which are all worth a visit, both day and night.
Go beyond a typical summer memory of eating a melted ice cream cone under the scorching sun – Everland offers whole new levels of fun. The resort's "Summer Splash" festival overflows with events for cooling down, relaxing and simply having a good time with friends and family.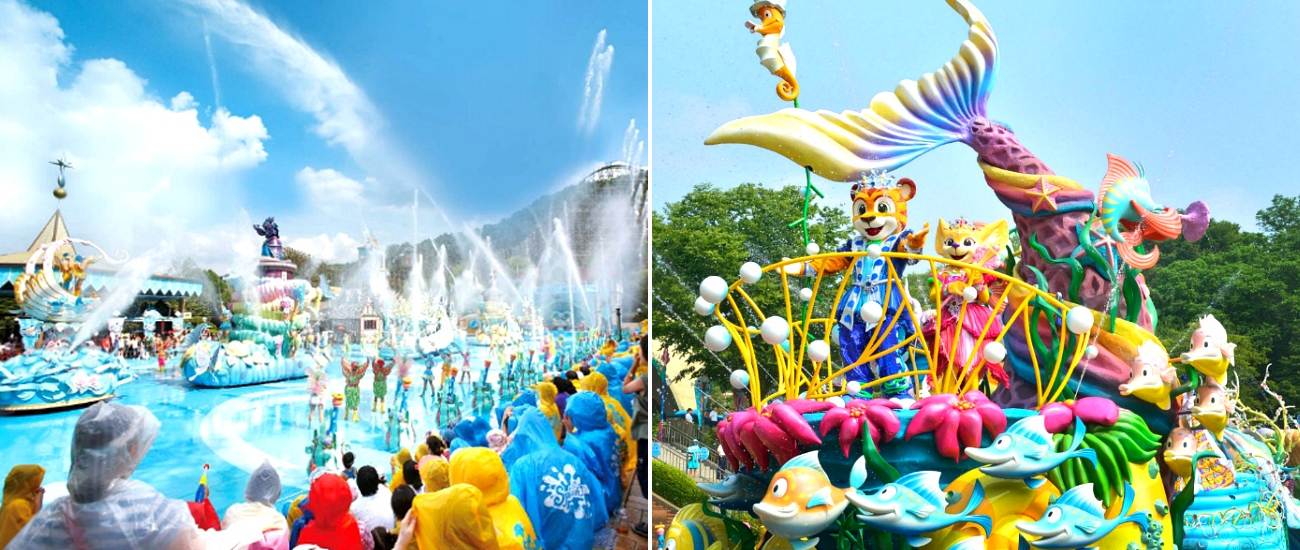 During Jack's Splash Parade, the highlight of the festival, visitors can have fun squirting each other with water guns, while powerful streams of cool water shoot out of water cannons, soaking everyone involved in the event.    
Deep into the summer night starts the mesmerizing Atlantis Adventure, which is a multimedia spectacle that dances along the new structure built within the Four Seasons Garden. Those who want to leave snapshots of their wonderful summer memories can also enjoy a breezy walk around the garden, posing with the Hanji light sculptures shaped into different marine animals.  
This year's "Summer Splash" festival runs from June 16th to August 28th, and is ready for those in need of some proper summer fun.
Fall is the time for Everland visitors to enjoy some spooky fun since the eerie excitement of Halloween lasts more than just one night at the resort. Over the span of two months, every night is Halloween & Horror Night, where visitors can dress up as their favorite monsters and run loose with packs of zombies for some fright-tastic fun.

Those daring enough to enjoy wild life with a spoonful of horror can get in the queue for the Horror Safari, which features Walking Dead-esque zombies who chase visitors seated on the Safari bus.
Meanwhile at the 'Zombie Grave Experience Zone', visitors can take 3D photos of themselves with a spooky graveyard in the background. With the whole park redecorated into a mythical horror town, Everland offers a spooktacular experience for all.
Walking in a Winter Everland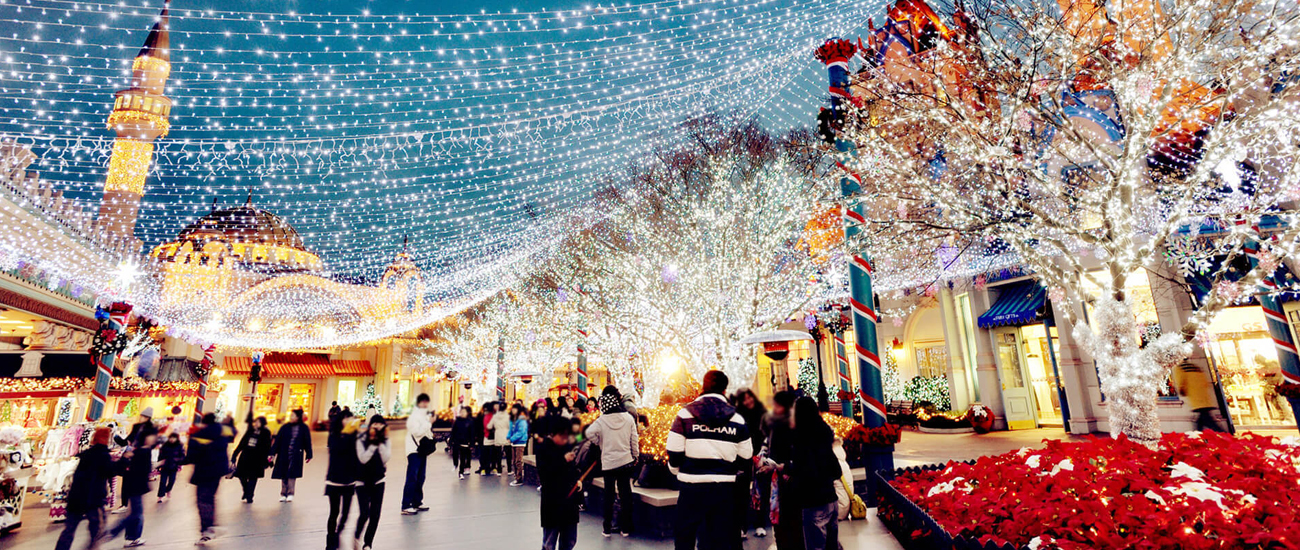 When the weather turns cold, festival fun at Everland only heats up. During December and January, a 26-meter-tall, richly decorated tree offers a bright, warm answer to escape winter's cold. The Rose Garden and Magic Garden are both elegantly decorated with glowing light sculptures shaped like hearts, angel wings and chariots, creating a romantic atmosphere for all to enjoy.
In the afternoon, festive sounds of the White Christmas Parade rumble throughout Parade Path and Carnival Square. With Snow Queen looking down from her carriage and other performers dressed head to toe in white, children can build their very own White Christmas memories. At night, visitors can take in the Moonlight Parade which features an unforgettable stream of brightly lit decorations that warms the hearts of all those watching.
Along the frosty cliffs of the 'Snow Safari', tigers and bears roar and growl, allowing children to experience first-hand how wildlife sustains itself throughout the icy cold winter.
Everland, the Land of Festivals
Now celebrating its 40th anniversary, Everland offers fun-filled festivals all year-round. With seasonal events ready to entertain 365 days a year, every day is the perfect day to visit Everland.