Nelson Mandela once said, "Education is the most powerful weapon which you can use to change the world." Teachers everywhere would doubtlessly agree.
However, to educate, teachers need books, classrooms and other resources to properly nurture the great minds of the future. Sadly, not everyone in the world is lucky enough to live in an area where such things are a given.
That is where, oftentimes, big business can be of help. Creating a better tomorrow is one of Samsung C&T's core values. As such, the company realizes the importance of improving educational facilities for children in disadvantaged communities across the planet.
Since 2011, Samsung C&T has focused on schools in India in particular, chiefly because the subcontinent is a part of the world where the company has operated for a considerable length of time, and therefore understands it particularly well.
Despite India's large, growing economy, and its rich culture and history, children in certain less-affluent parts of the country lack adequate education resources – a situation that is affecting scores of children across the country.
That is why Samsung C&T has joined forces with Plan International Korea, an NGO committed to building a better future for children, with the aim of boosting opportunities for a whole new generation of Indian children.
Well-lit classrooms, a safe jungle gym in the playground, clean and fully functioning toilets – facilities like these are often taken for granted. But for some of India's poorest students, such resources can be hard to come by.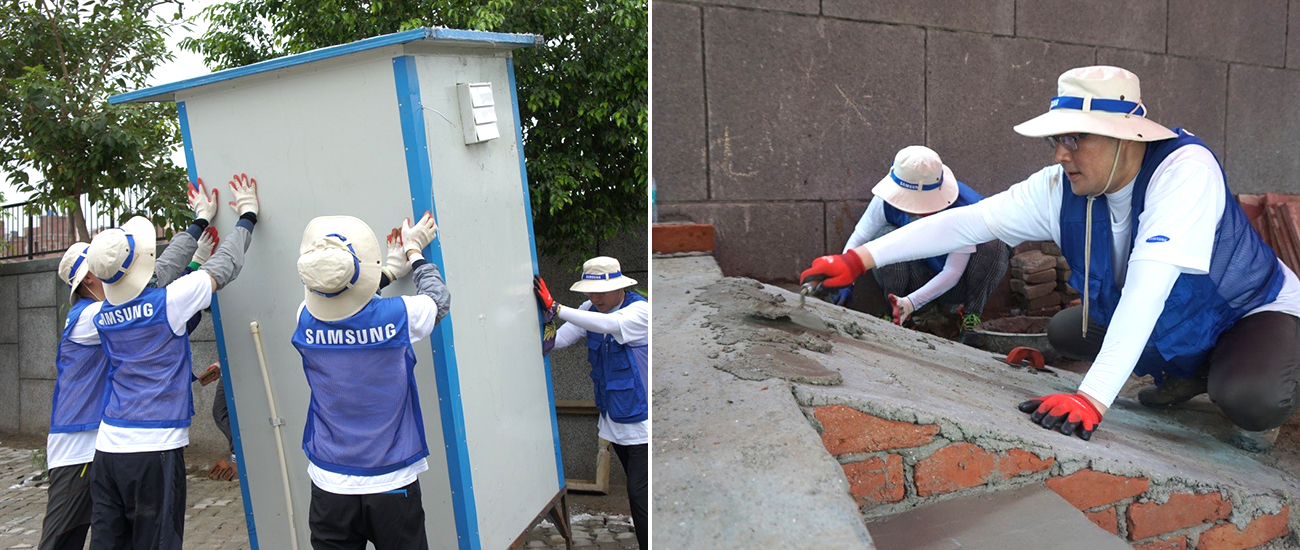 Education in India is free and compulsory for children aged 6 to 14, but in some parts of the country, schools are in a very bad state indeed.
For the past five years, Samsung C&T has been striving to improve conditions, building facilities and providing resources to schools in the country.
The SDMC Phase-II Madanpur Khadar primary school, located in an impoverished part of South Delhi, is an excellent example of how educators can turn around a school's fortunes once given a helpful push in the right direction.
Back in 2011, it became one of the first schools to receive Samsung C&T volunteer support. In March of this year, it was selected from 168 schools in the district to be the recipient of the Certificate of Excellence from the district government.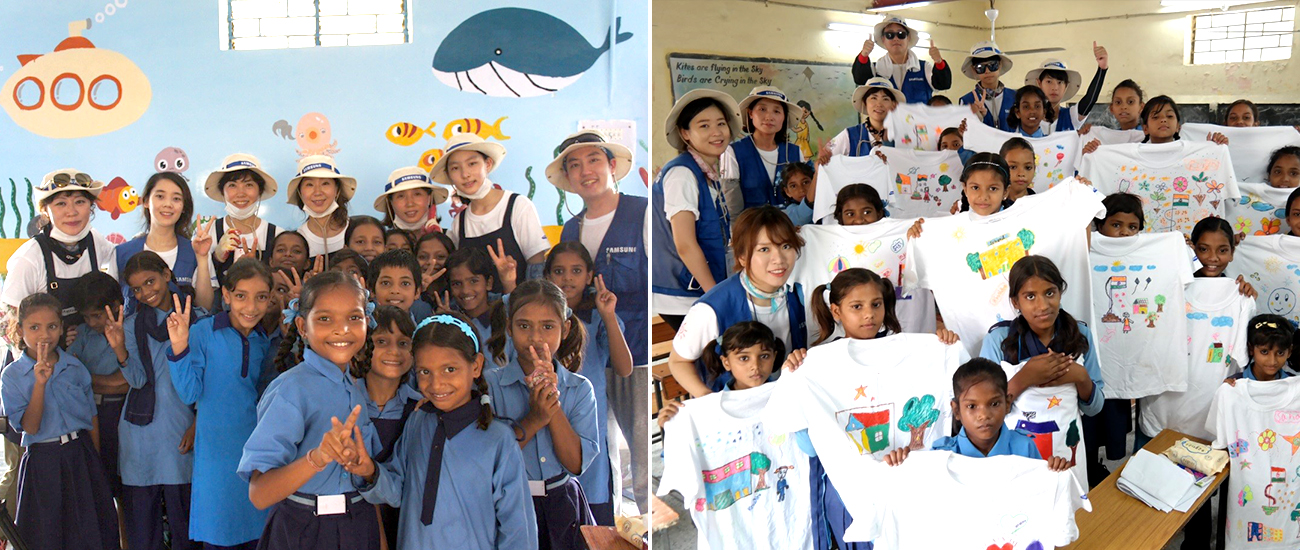 The school also welcomed a second round of Samsung C&T volunteers last year. Returning volunteers shed tears of joy when they were reunited with children they had bid fond farewells to four years ago.
Thanks to another push from Samsung C&T, the school, once run-down and decaying, now glows with the presence of laughing children. Students skip around the playground during break times, quenching their thirst at the water fountains, before returning to their colorfully painted classrooms.
Books filled up the library built back in 2011, and the desks of the AV room were adorned with powerful computers. With twinkling eyes and curious minds, the children are now able to explore literature and online information, eagerly grasping the opportunity to learn more than they ever dreamed possible.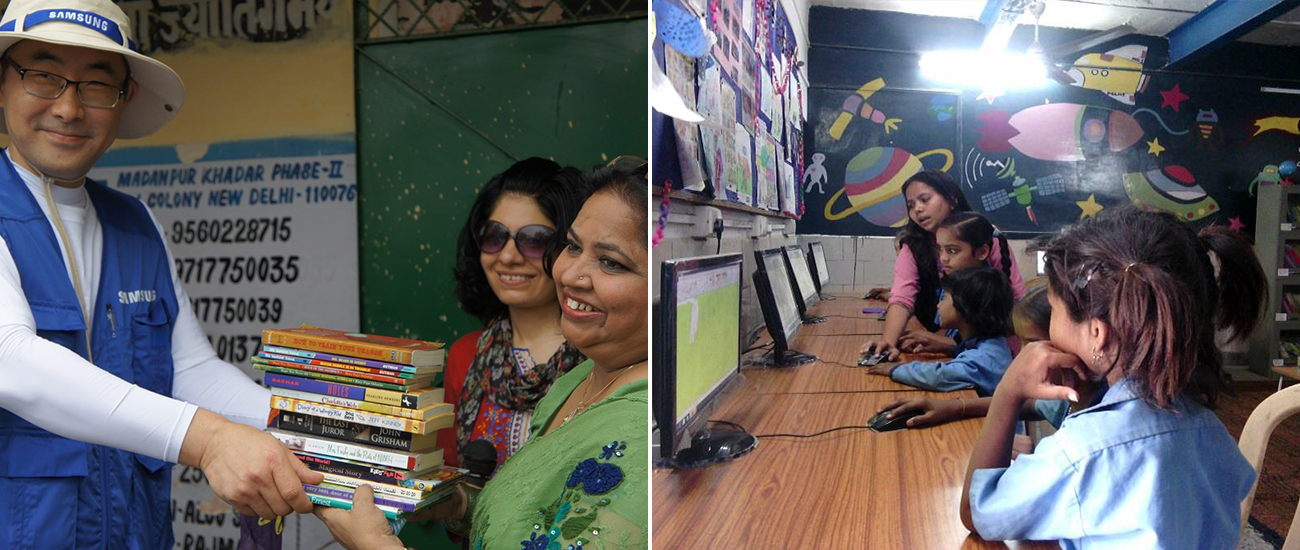 However, schools are not all about books and computers. Children need to channel their physical, creative and aesthetic energies too. That is why Samsung C&T also helped construct badminton courts, outdoor performance stages and blossoming flower gardens.
"The improvements motivated students to attend classes and naturally achieve better academic results," says Talat Sultana, the school's principal. "Everyone involved in the school, including the staff, parents and I, are all extremely excited about these changes happening at the school. We are making every effort to maintain them."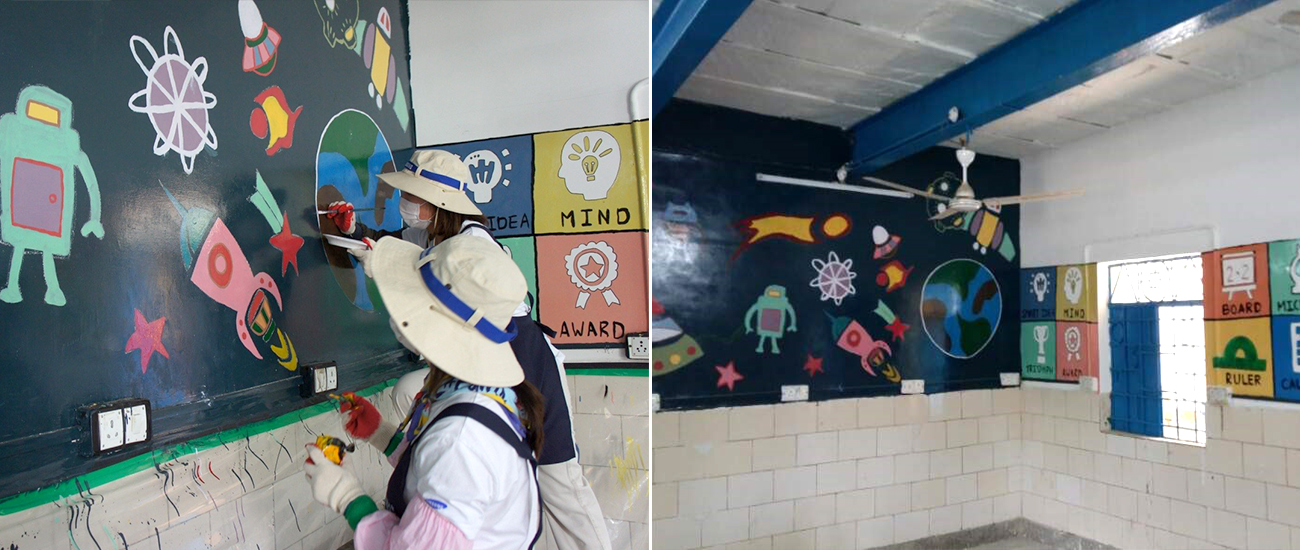 Where children once had to share communal restrooms, separated bathroom facilities are now in place, along with filtered water fountains, and everything is powered by solar energy panels.
Discolored walls have been transformed into a sea of bright colors and patterns, the soccer field has been renovated, and an unsightly waste disposal site has been cleared to make way for a garden area.
With facilities like these, it is little wonder that education matters are starting to turn heads in South Delhi – for children and parents alike. The SDMC Phase-II Primary School's transformation has indeed been remarkable. In many ways, the school and its students are living proof that education really can change lives forever.