Plastic has revolutionized the world in the modern era, ushering in both convenient and potentially life-saving applications. From laptops to medical devices, it is difficult to imagine the world without plastic.
But over recent decades, plastic has become so practical that it has been used for seemingly endless daily needs – including things like single-use bags, packaging, straws, cups, and so on. Indeed, we have seen around 8 million tons of plastic waste being dumped annually into the world's oceans.
While there are many kinds of plastic, a lot of them share a common feature – they take a long time to break down, even hundreds of years, causing landfills to fill up and waste to spill over into our natural environment. So, you might find the future in another material: biodegradable plastic.
Here today, gone tomorrow: What is biodegradable plastic?
If all plastics break down eventually, we should clarify what we mean exactly by biodegradable plastic.
Firstly, when we refer to biodegrading, these materials can be broken down by living microorganisms into water, biomass, and gases like carbon dioxide and methane. It takes from several weeks to six months for a biodegradable plastic to break down as long as the conditions are right.
As for different types of biodegradable plastic, they can be classified into two main categories depending on their origin: bio-based and fossil-based.
Polylactic Acid (PLA) is a good example of a bio-based biodegradable plastic. Made by fermenting natural raw materials such as corn and sugarcane, PLA is relatively cheap with mechanical properties that make it a popular material. It is also a thermoplastic, so it is easy to shape and reform by heating without any degradation. PLA is applied to a variety of uses, including clear or opaque rigid plastics for packaging, disposable food containers, bottles, and films.
Regarding fossil-based biodegradable plastics, examples of these are polybutylene adipate terephthalate (PBAT) and polybutylene succinate (PBS). More resistant to heat and impact than PLA, they are preferred for applications like agricultural mulching film, particular kinds of packaging, carrier bags, and fishing nets. You can see the degradation period and life cycle of biodegradable plastics below.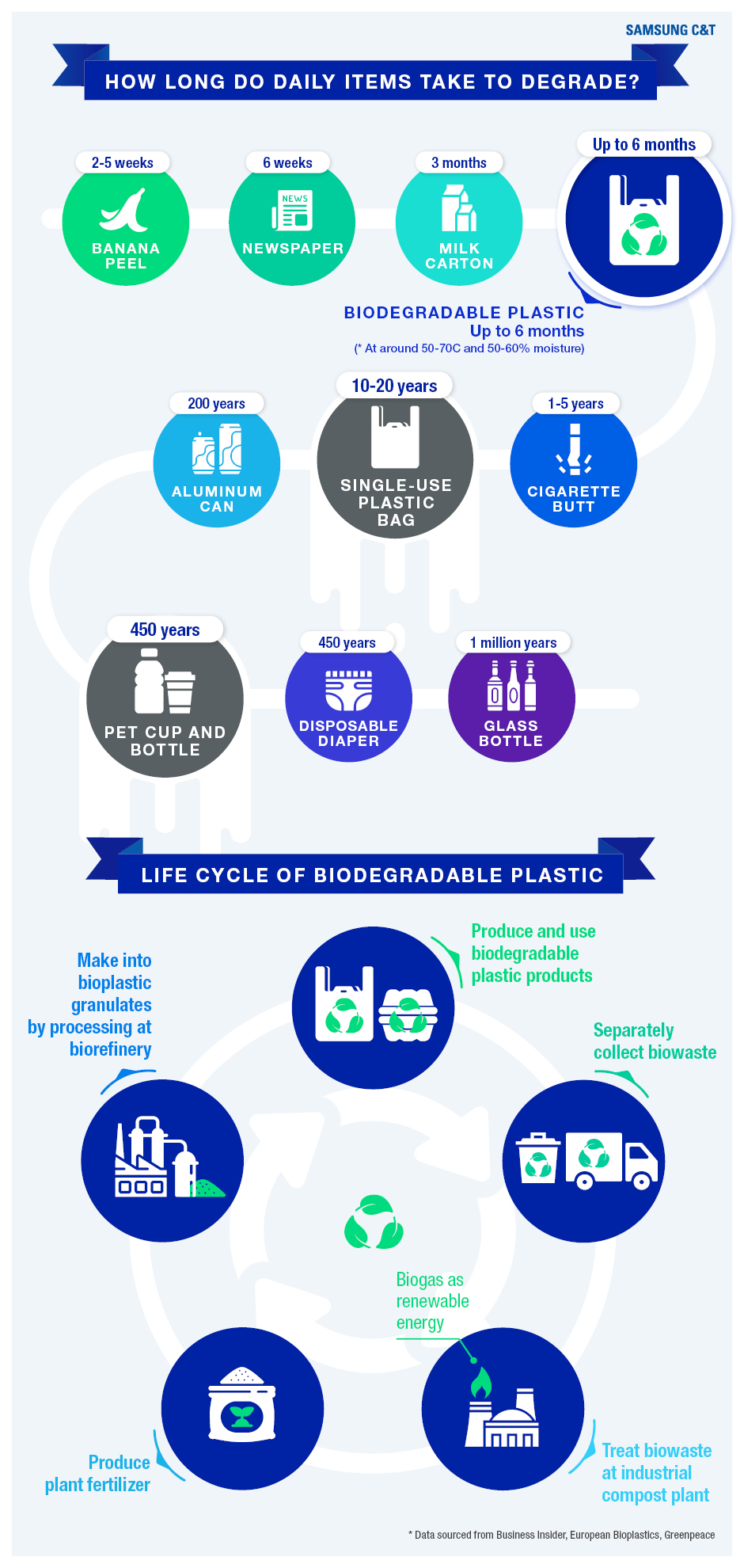 A market that shows no sign of degradation
While it is true that research continues into how to make the process of plastic biodegradation more efficient, the biodegradable plastic market is already showing much promise.
The global market was valued at USD 1.6 billion in 2019 and is set to reach USD 4.2 billion by 2027, expanding at a CAGR of 13.3 percent from 2020 to 2027. In terms of production capacity, it is anticipated that 1.8 million tons of biodegradable plastic will be supplied in 2025. Although the market share is small compared to the world's overall plastic production, the opportunities for growth are enormous.
In particular, PLA is expected to see strong growth because it is being increasingly used for food packaging. In 2020, North America had the biggest revenue share of over 42%, while the Asia-Pacific region is set to expand the fastest between 2021 and 2028. The PBAT and PBS markets are also expected to grow, driven by factors such as improved environmental awareness and rising demand from the packaging industry.
In addition, we can see the influence of official legislation. For instance, Europe was the largest biodegradable plastic market in 2019, encouraged by its ban on single-use plastics.
Doing business in an eco-friendly world
Aside from Europe, many countries from the U.S. and the U.K. to the UAE and China are joining a global trend to regulate plastic use to reduce waste.
To keep pace with the worldwide push to protect the environment, Samsung C&T is also practising sustainability while engaging with biodegradable plastics like PLA, PBAT, and PBS.
With greater awareness of eco-friendly materials and increasing desire to apply them to our world, we can hope to continue enjoying the many benefits of plastic without piling up waste.