People are increasingly questioning the concept of normality and embracing diversity, and that has led to a growing push to meet the needs that have been marginalized. For instance, until the cosmetics brand Fenty launched a new line of foundations available in 40 shades in 2017, those with darker skin colors had to spend more time and money to find the right product.
Similarly, many disabled people find conventional clothes often "cause discomfort, from fiddly buttons to seams that chafe in a wheelchair." This has given rise to adaptive fashion that provides both the comfort and functionality of wearers, no matter how they move around.
Thinking practically while designing fashionably
Heartist is among the adaptive clothing brands launched by Samsung C&T Fashion Group in 2019. With its slogan Fashion for All Abilities, this label aims to ensure everyone has the same range of stylish choices.
Wheelchair users are the first people to receive attention. The key was reflecting the lifestyles of people who almost exclusively use their upper bodies while moving around in a seated position. The clothes should remain comfortable when the wearer sits still for long periods of time, and they should maintain their shape without looking rumpled. They must also be easy to put on and take off for someone with impaired dexterity after spinal cord damage.
From the early stage of research and planning, Heartist consults with experts in rehabilitative medicine to get their advice. The brand also collaborates with an organization of people with disabilities to have prototype garments road-tested by actual wheelchair users, incorporating their feedback in the final designs.
As a result, every Heartist garment is equipped with special details that address the inconveniences that wheelchair users face in daily living.
Fit for this spring and summer
This year's spring/summer collection was organized with the participation of three Heartist ambassadors who were selected last year as the first cohort of an ongoing project. This trio worked with the brand from the design stage to final fitting, sharing each of their opinions from the perspective of people who would actually wear the final results.
Initially, the ambassadors expressed that there should be adaptive clothing available for special occasions like weddings, business meetings, or dates. In response, this season's collection is comprised of six such business casual items.
The men's navy jacket and pants combination is cut to a classic design and made of luxurious material. An action band made of stretch fabric runs down the back, making moving around in a wheelchair easier and more comfortable. Velcro closures and an accessible zipper puller on the pants make them easy to put on and take off, and a high back rise caters to sustained periods in a seated position.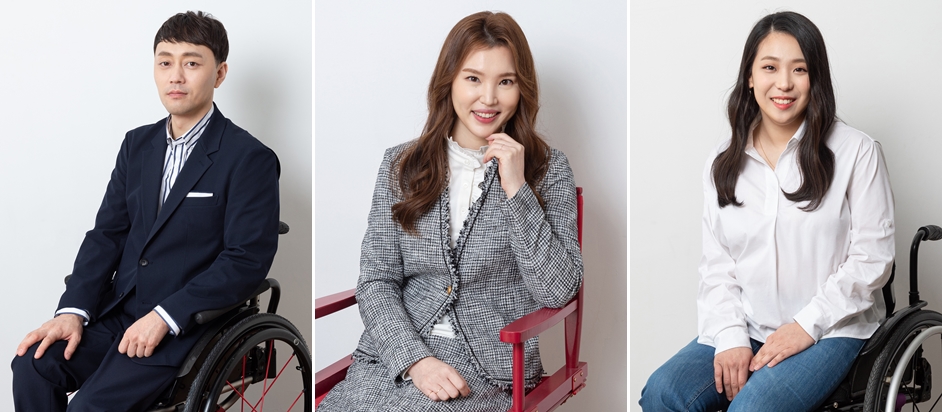 The women's matching gray tweed jacket and skirt creates an optimal fit that keeps the clothes looking smart and wrinkle-free in a sitting position, while action band details increase the range of movement.
The white blouse also offers a very practical choice as it goes well with any style, whether dressing up or going casual. It too has action bands for freer mobility, as well as easy-to-open magnetic buttons to make dressing and undressing easier.
Heartist will continue to constantly engage with the community, in order to offer garments that meet the needs of people with disabilities and that they will want to wear.
Heartist's 2021 Spring/Summer collection is available at SSF Shop, the online mall of Samsung C&T Fashion group.