It's been an incredible last few months for electric vehicles (EVs), as global sales more than doubled from 2020 to reach 4.5 million last year – all the more impressive considering general car sales have been so subdued during the COVID-19 pandemic.
Naturally, EVs are gaining popularity as the world tries to lower carbon emissions by moving away from fossil fuels, but there has been a lingering question – what to do when those EV batteries reach the end of their life?
The answer for an increasing number of EV industry stakeholders is battery recycling.
EV battery recycling boom
Samsung C&T Trading & Investment Group has been taking a strong interest in EV battery recycling, as we saw previously. Now, more and more companies are joining the EV battery recycling movement.
For instance, Nissan plans to build battery recycling plants in the United States and Europe by 2025. And Tesla has said it can recover 92% of waste battery materials with its own recycling technology. Already, as of last year, the company recycled 1,300 tons of nickel, 400 tons of copper, and 80 tons of cobalt. In addition, the first stage of its own battery cell recycling facility has been installed.
Moreover, Volkswagen is currently conducting research to increase the recovery rate of raw materials for batteries from 60 percent to 95 percent, and the company has been operating a battery recycling test plant in Germany.
Why recycling is seen as the best option for EV batteries
EV batteries account for 60 percent of vehicle costs. If used EV batteries are not handled properly, the transport revolution could be delayed because of the need to mine new valuable battery resources like cobalt, lithium and nickel, as well as the cost of replacement and the vast electronic waste created by millions of discarded batteries.
Yet if recycled effectively, old batteries could be seen as a gold mine, creating a circular economy in which used batteries are recycled and reused in the EVs of the future, even decades from now.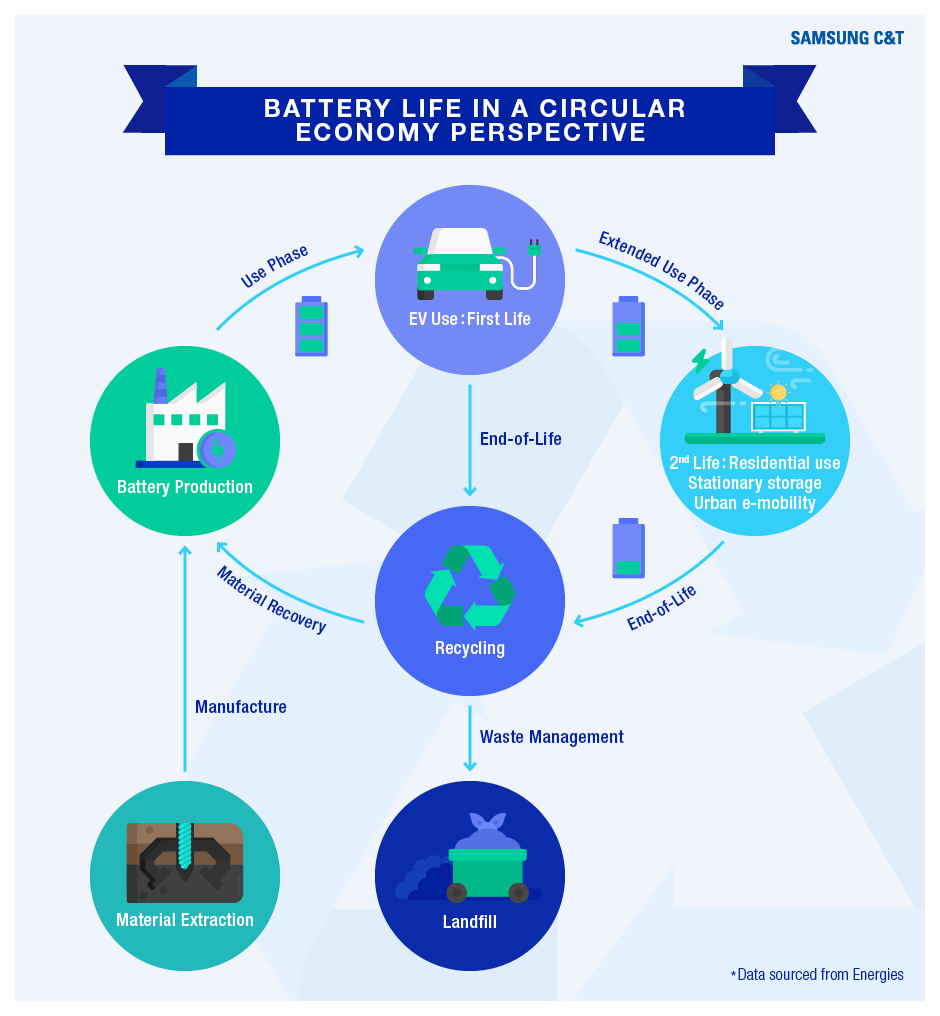 Research suggests recycled batteries could provide over half the cobalt, lithium, and nickel needed for new EV batteries by 2040.
But recycling does still require breaking down old batteries at facilities that are able to extract their valuable resources. Also, due to the size of EV battery packs, transporting them to those facilities efficiently and safely requires careful logistical planning to avoid driving up costs further. Meanwhile, another option for used EV batteries is energy storage.
One thing's for sure: The challenge of EV battery recycling is being seen as a tremendous opportunity.
Consider recycling versus constantly sourcing those key EV resources – as of early December 2021, lithium prices rose 410 percent from the average price in 2020. Over the same period, cobalt prices increased 120 percent and nickel prices grew 47 percent. Let's take a look at the battery recycling market outlook.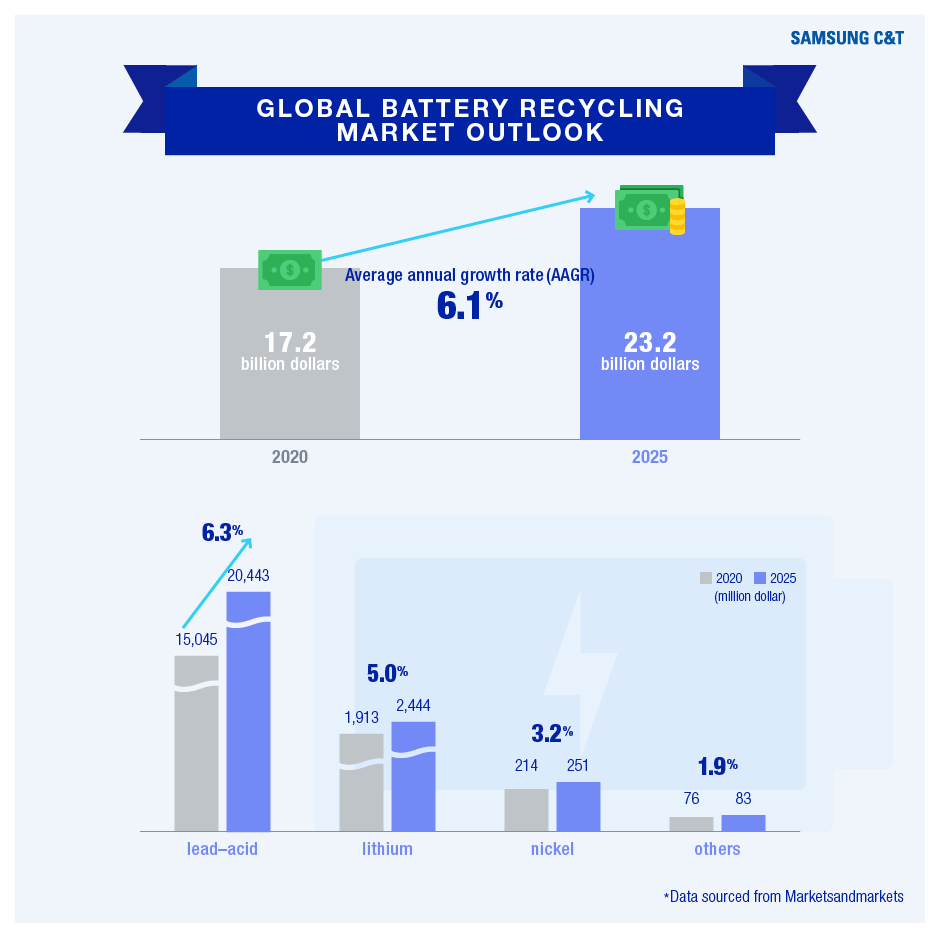 In line with its push towards sustainability and participating in the overall low-carbon movement, Samsung C&T continues to strengthen its environmentally friendly business portfolio including EV battery recycling and renewable energy generation.
Regarding battery recycling, the company focuses on supplying resources like nickel and cobalt recovered from used batteries to secondary battery manufacturers as well as businesses trading in major materials such as copper and cobalt.