You may have heard data being referred to as the new gold or perhaps even the new oil, as it's clear that companies around the world are considering data as a vital commodity.
Data can be very useful for trading companies because using data the right way can help them source and move key physical commodities at good prices, from steel to chemicals. But what is the right way? In this article, we'll explore the value of machine learning to better harness the power of data.
Machine learning for data management
First, let's consider what machine learning is. It is actually a type of artificial intelligence (AI) that allows software applications to become better at predicting outcomes without relying on separate programming.
What machine learning does need to anticipate these outcomes is data – the more data, the more it learns. Since big tech companies like Facebook and Google are already using machine learning in their business operations, we often hear about the importance of data.
Delivery and logistics services can also be much more efficient when they harness the power of machine learning, potentially analyzing billions of data points to guide operations. A strong example of this is the use of machine learning and data harvesting to carry out predictive analytics. For instance, demand forecasting engines can be used to record customer preferences and predict what they want and when. While this helps ensure robust supply, warehouse machines may also record data to let engineers know when they need to undergo maintenance work, and that further boosts logistics efficiency. Also, AI can decide on types of packaging so that products are appropriately protected and handled during transit.
And from a financial perspective, such technology has allowed companies to improve logistics costs by 15%, inventory levels by 35%, and service levels by 65%, according to McKinsey.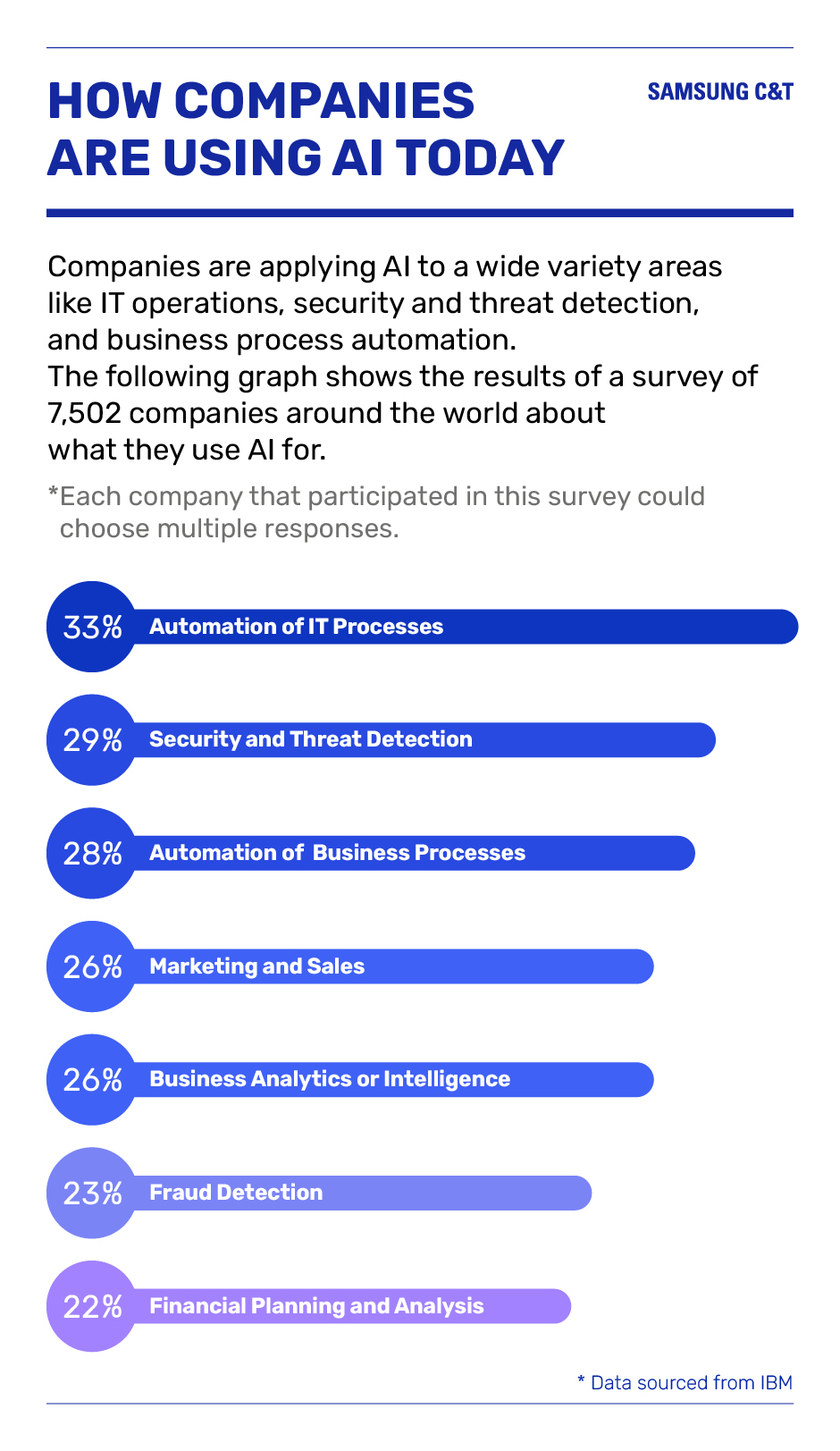 How machine learning could help a trading company
As we've heard many times from traders at Samsung C&T Trading & Investment Group, key information about commodities and markets is vital when it comes to making major business decisions, including commodity price forecasting and logistics.
As such, trading companies can harness the power of machine learning to allow traders to spend less time gathering and analyzing data related to their business operations, while enhancing supervision of the entire supply chain. It is also very useful for driving logistics efficiently and keeping supply chains moving – machine learning helps handle higher volumes with near-perfect accuracy and reliability.
For example, to minimize supply chain disruption, companies can use a digital twin strategy to model supply chains and business process. Machine learning being used to maximize the benefit of the digital twin as it can classify data to help pinpoint trends that matter most and predict supply problems before they actually happen. Moreover, shipping of goods and materials can become more efficient through machine learning, as algorithms may inform predictive maintenance, navigation, and emissions reduction.
Assessing demand fluctuations is also a vital aspect of trading. Machine learning can sift through vast amounts of data to accurately predict and respond to customer behavior. For instance, in the field of steel, multiple machine learning models can gather data in the flow of ever-changing demand and supply based on rapidly shifting market conditions. By extracting patterns in this way, machine learning can create a more accurate demand forecast and set up an optimized sales strategy.
In addition, sourcing materials is an important feature of trading. One of the world's major challenges of recent years has been sourcing the materials required to power electric cars and other green technologies. But machine-learning algorithms are being used to identify geological patterns to help discover target materials needed for batteries and other renewable energy technologies.
Where does Samsung C&T fit in?
Because machine learning algorithms use data, Samsung C&T is in an advantageous position to benefit, having gathered so much historical data over decades of trading experience across the world. The company also recognizes the need to closely monitor global management trends as well as the importance of data analysis in this regard.
In response, Samsung C&T has introduced and is using machine learning prediction algorithms to predict market conditions, which are key to establishing strategies for trading and operating business sites. In order to effectively utilize data, each organization is employing Business Intelligence software. This helps inform data-driven decisions by combining features such as analytics and data visualization for faster analysis and greater strategization.
Samsung C&T is striving to seize new business opportunities in the era of digital transformation, and plans to continue to strengthen its data capabilities in the future.