Construction safety cannot be overemphasized. The most serious accidents can be prevented if workers install and use industrial safety equipment properly on construction sites. The new generation of safety devices is smarter than ever.
Maintain safety the smart way!
When it comes to safety at construction sites, perhaps the most common hazards are falls from high  places or being hurt by machinery. Depending on the worksite, there are risks such as chemical, fire, and radiation exposure. To prevent such accidents, it is important to use the appropriate protective equipment and for the monitoring to be done in real time. Recent technological innovations such as the Internet of Things (IoT) have enabled the combination of existing sensors with new safety management systems to bring safety into the "smart" era, meaning that hazards can be automatically detected before they turn into accidents.
For example, connecting multiple sensors to an IoT network allows problems in one area to be flagged for attention, while machine learning and artificial intelligence (AI) enables computers to learn how to spot potential problems based on pattern recognition. As one example of how seriously governments around the world value this development, the Seoul Metropolitan Government is encouraging the construction industry to adopt AI and IoT in integrated safety management systems to increase construction worksite safety.
Meanwhile, construction robots can do tasks that would otherwise be potentially hazardous or difficult for humans to achieve, making things safer for workers.

It is the job of smart safety devices to detect and warn of hazards before they turn into accidents. Toxic gas detectors, for example, warn workers of invisible health hazards. Light detection and ranging (lidar) on cranes and other vehicles can predict and prevent collisions before they occur. Meanwhile, drones fly above construction sites, spotting potential risks from above.
These days, wearable construction devices are a hot topic because they bring safety to the level of each individual worker. Let's learn more about wearable construction equipment below.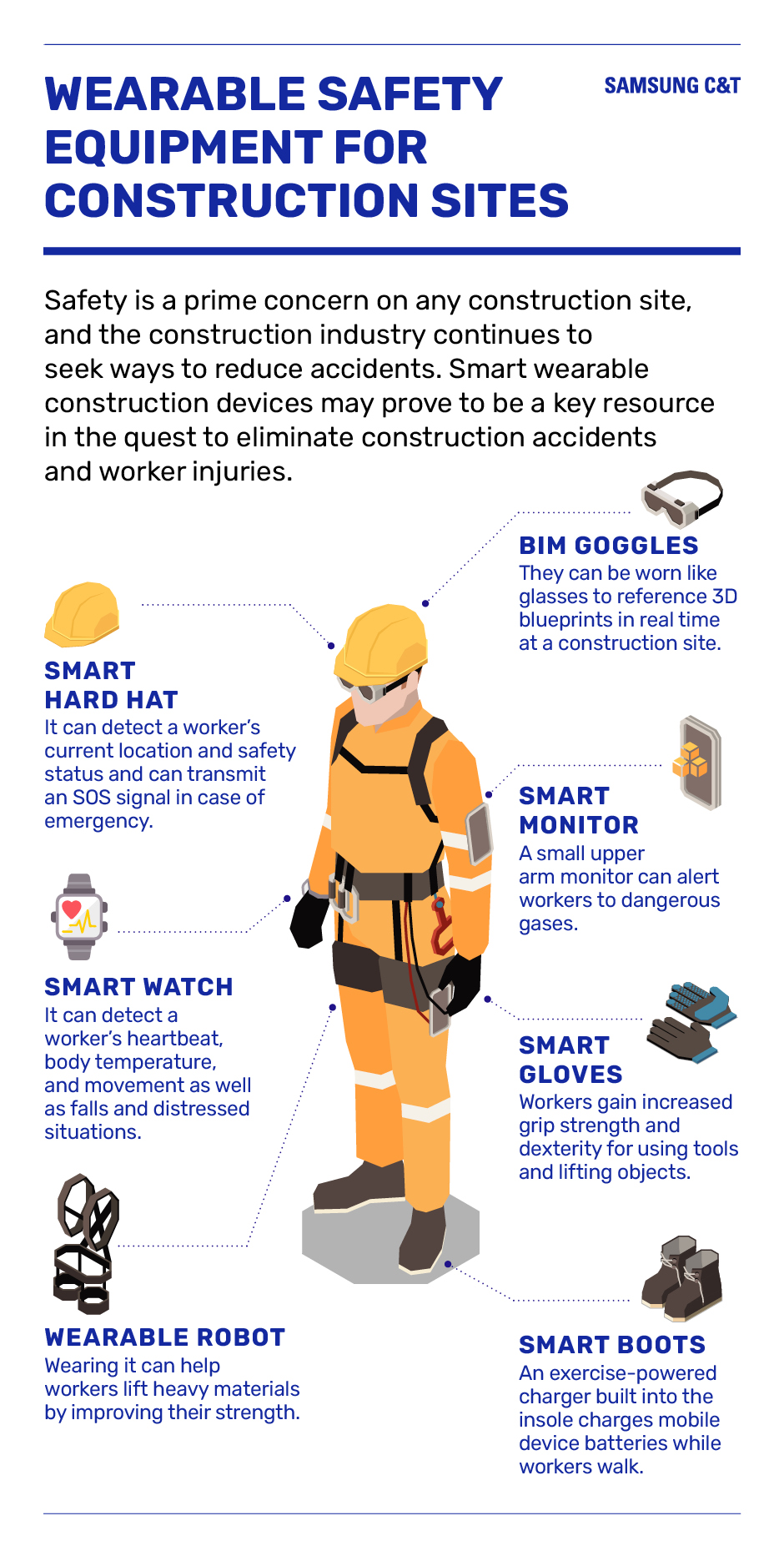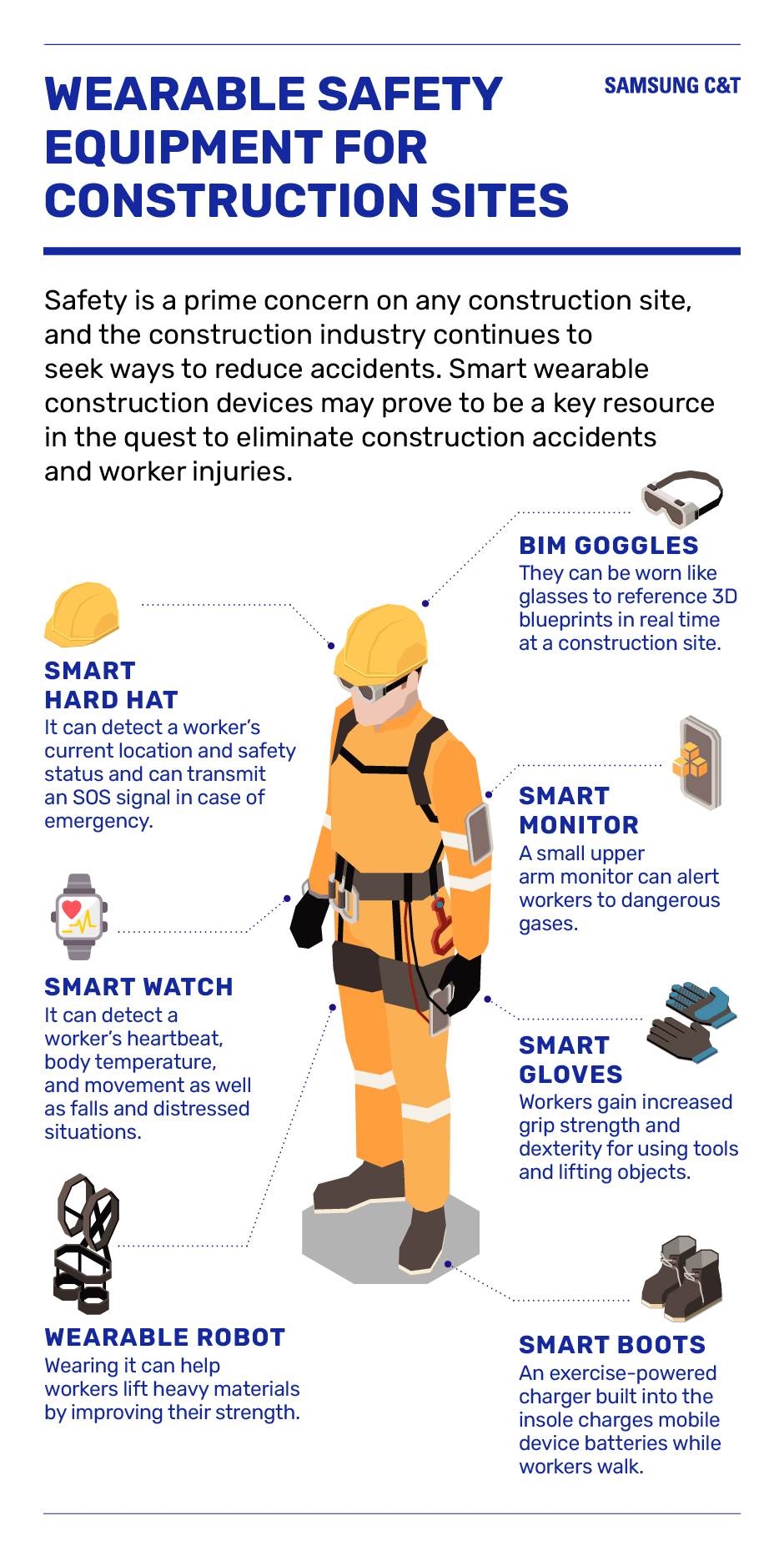 Samsung C&T develops smart safety equipment, too
Samsung C&T Engineering & Construction Group introduced its own risk elimination device (R.E.D) 2021. It monitors the operation and location of equipment on a construction site and analyzes the data collected to prevent the use of unnecessary equipment and help reduce waiting times. It also prevents accidents by sending real-time warnings to workers approaching risk zones. The Group plans to apply R.E.D to various pieces of commonly used construction equipment such as table lifts, mobile cranes, and forklifts.
Also in 2021, the SMAR'T program was introduced. It is an equipment safety training program that incorporates virtual reality to simulate various real worksite situations so that workers can virtually experience real-life dangers. Some examples include lifting heavy objects, loading and unloading, pouring concrete, and working at heights. Watch workers experiencing SMAR'T in this video:
Additionally, Samsung C&T E&C Group is further improving workplace safety by introducing a smart monitoring system where heavy equipment is used at sea. Offshore lifting work is often carried out using cranes on barges. Due to the narrow spaces involved and the difficulty of accurately maneuvering on water, the risk of collisions and entanglement accidents is high. Samsung C&T E&C Group works to prevent accidents that may occur in these situations by using a mobile crane risk monitoring system that employs a combination of sensors for the detection of crane boom collisions, workers approaching, and wind speed.
Samsung C&T's Engineering & Construction Group is known for its efforts to improve the safety at construction sites by giving stop-work authority to workers, creating a design for Safety system for preventive safety management, and by sharing its safety management practices to help raise the level of safety in its partner companies. As such, Samsung C&T continues to work hard to raise safety awareness and practices throughout the construction industry.