As winter arrives and temperatures plummet, it might appear that staying as warm as possible and keeping up to date with the latest trends are two mutually exclusive styling options. And yet, as witnessed in recent years with the growing diversification of outerwear options, this no longer has to be the case as brands infuse their cold weather wear with the hottest styles.
This winter, five trends have emerged as leading cold weather styling. Explore our guide to F/W '18's outerwear collections – so that you can avoid being left out in the cold this season.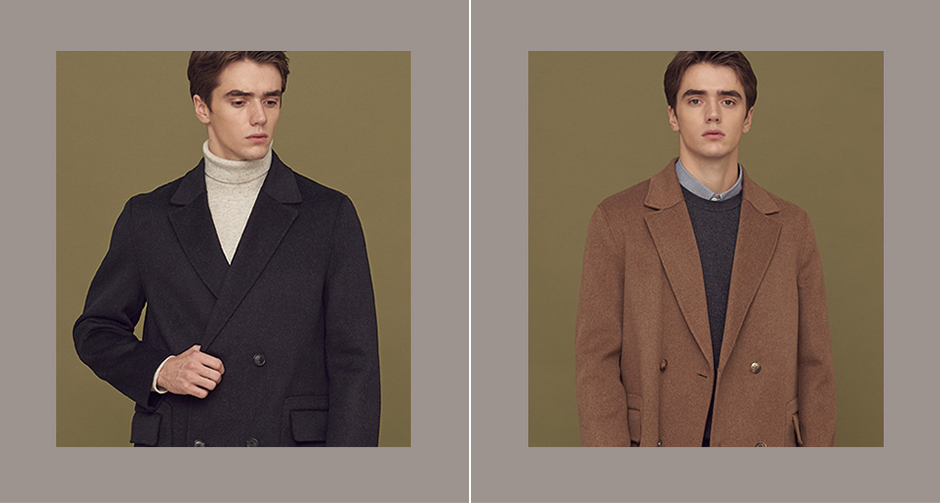 This season, the classic overcoat remains as popular as ever – but stylish shoppers should take note of its latest reworking thanks to the addition of dynamic new colors, shapes and fabrics. A particular highlight of this season's classic looks is the inclusion of fashionable cashmere, a fabric that offers warmth and a soft feel as well as a timeless elegance.
In BEANPOLE Men's latest collection, the classic design meets the trendy 'oversized' silhouette along with a mixture of cashmere materials and a varied color offering to match any style personality. Be it in the single Chester, double Chester or Balmacaan coat form, elegant style-seekers have plenty of choice from which to find the classic outerwear piece for them.
A staple of recent fashion trends, plaid has returned in full force in F/W '18 trends, with the enduring retro fabric making an appearance in all types of clothing, from pants to accessories, and in all its divergent forms, from houndstooth check to Glen.
Thanks to the outerwear collections of 8SECONDS, KUHO and BEANPOLE, you can comfortably sport this red-hot trend even in the chilliest of climates. All three brands offer pieces for both men and women, with their styles marrying classic outerwear silhouettes with elegant variants of the distinct pattern. Click here to learn more about how plaid is leading recent style trends.
2018 has seen layering take center stage on runways around the world. As we enter winter, this trend has entered the outerwear arena in its most practical iteration yet – the hybrid coat. For those in the market for flexible outerwear that can be worn multiple ways for whatever the winter weather might throw at us, the hybrid coat is the intelligent choice.
This 'hybrid' trend in outerwear is characterized by detachable items that can be worn separately in balmier temperatures, or together to form a comprehensive winter coat – making the hybrid coat the perfect choice for personalization, convenience and style.
Rogatis and BEANPOLE Sport are two brands offering hybrid coats that are perfect for all occasions. Their detachable inner jackets mean that each style can be worn three ways – for warmer days the lighter inner jacket can keep you looking stylish; for rainier days, the outer coat can be worn on its own to protect you from the elements, and then during those sudden cold snaps, both jackets can be worn together for the ultimate in winter warmth.
For F/W '18, the popularity of the long padded coat shows no signs of abating. But this year, the winter standard is back with a new look. The very latest interpretations of this iconic silhouette see glittering materials and shining colors added onto the maximum-warmth style.
If you are looking to stand out from the crowd, BEANPOLE Sports' latest range offers a selection of unique color options – including bold options like pink and red – along with a variety of fit options. BEANPOLE has created two parka cut choices for F/W '18, with the especially oversize 'Cocoon' cut for women that balloons out at the waist for the ultimate comfort and winter style and the straight cut 'Unisex' fit perfect for both men and women. The wide selection of youthful designs on offer also come in a variety of materials, including traditional matte and a youthful gloss for a more sporty, luxurious look.
The short padded puffer coat is an emblem of 1990's street style, and this year it is back in full force as part of the retro wave – and is more versatile than ever. The latest iterations of this style see it infused with upgrades that are as unique as they are practical; fans of the puffer can find a wealth of looks featuring a variety of glossy, metallic and vinyl materials, and winter-savvy shoppers can stay warm and dry thanks to the incorporation of waterproof fabrics.
The latest short puffer coats from BEANPOLE Sports and GALAXY come in a variety of colors and exciting fabrics, allowing you to personalize your winter style with utmost flair and practicality. This season's short coats will especially suit those looking for a sportier style, with these cropped parka designs reminiscent of the ever-popular athleisure trend. These classic quilted designs are also sure to keep you warm, with goose down fillings for whatever this winter might throw at you.
With this season's offerings providing stylish options for each and every personality, occasion and need this winter, there is something for everyone looking to stay both warm and fashionable in the F/W '18 outerwear collections.
Head to the SSF Shop website to explore all of the above styles – and more.