Eung-tae Kim's golf game might not have improved in 15 years, but that doesn't mean he hasn't been building towards perfection at the Anyang Country Club. As the greenskeeper for the golf course, he has been obsessed with ensuring that the grounds are blanketed with soft grass and stunning botanicals.
"I've loved plants since I was a child," said Kim. "Although I wasn't good at growing them, just watching them made me happy. In university, I majored in landscape architecture and when I was joining the company, I applied for landscape business department with the hope of being a landscape designer. But I got placed in the Golf Business Department."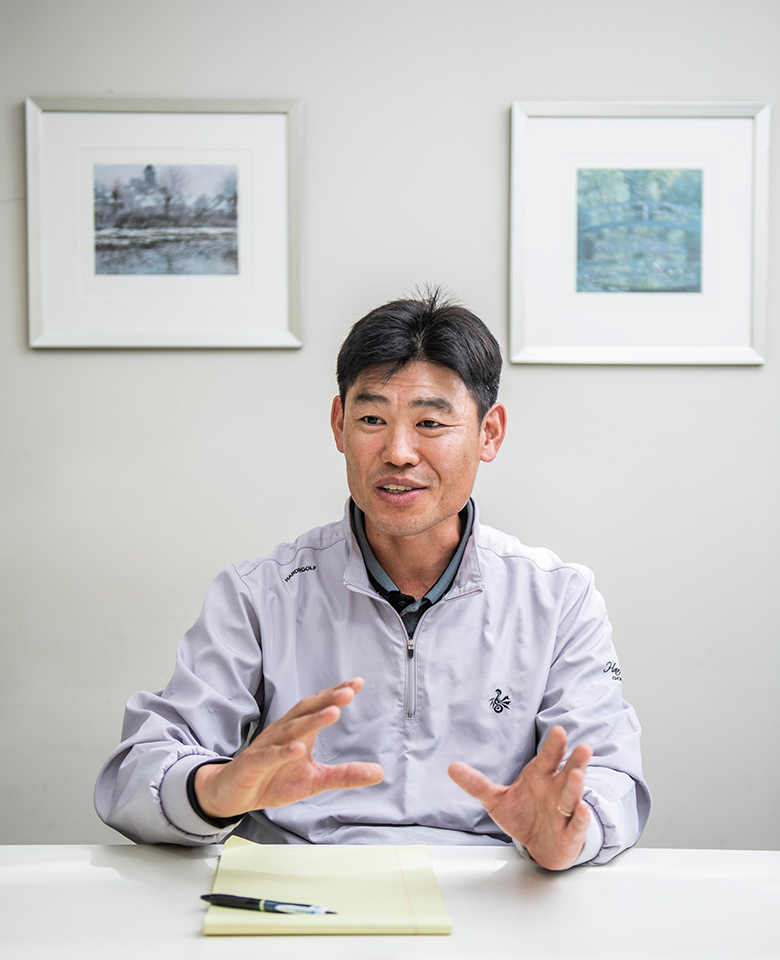 Although he had some trepidations about the position, he decided to give it a try and see what the experience could bring. He soon realized that the job was a perfect fit and began mapping out how he could develop his career.
"I realized it fit my aptitude well and saw the possibility of future development," he said. "In 1998, it was just the beginning for professional technology for golf and for professionals to be treated well. So, I thought 'If I work hard here, I will be able to become a professional' and started to put all my effort into my work."
That hard work has paid off, with Kim now a well-respected expert in the field. But it's no walk in the park.
Kim's days start early as he arrives by 6am and checks the condition of the golf course greens.
"I usually spend 3 hours roaming the course either on foot or a cart to check the course thoroughly," he explained. "I look for whether there's a part of the lawn that is damaged, sick, or lacking nutrition. If there is a problem, I consult the staff and plan our work so that we can take immediate action." 
Time is a huge factor in Kim's job, especially in the hot weather. If the grass is left in the heat for so much as one hour, it could die right away.
"I could check it at 11am and say, 'it's okay,' but it might be close to its death around 12," he said, describing summer as a season of tension. "To ensure there isn't even one problem in the large golf course, it is necessary to take good care of the grass – examining it, giving it water, and managing its nutrition."
Working with his team, Kim handles a variety of daily tasks that include health management of the lawn, growth management, pest control, nutrition, predictive maintenance such as mowing and rolling, landscape management of tress and flowers, and course setting for games such as locating holes and setting up tee markers and hazard zones. Although his work means he doesn't get much time to talk with the golfers, he still prizes their recognition.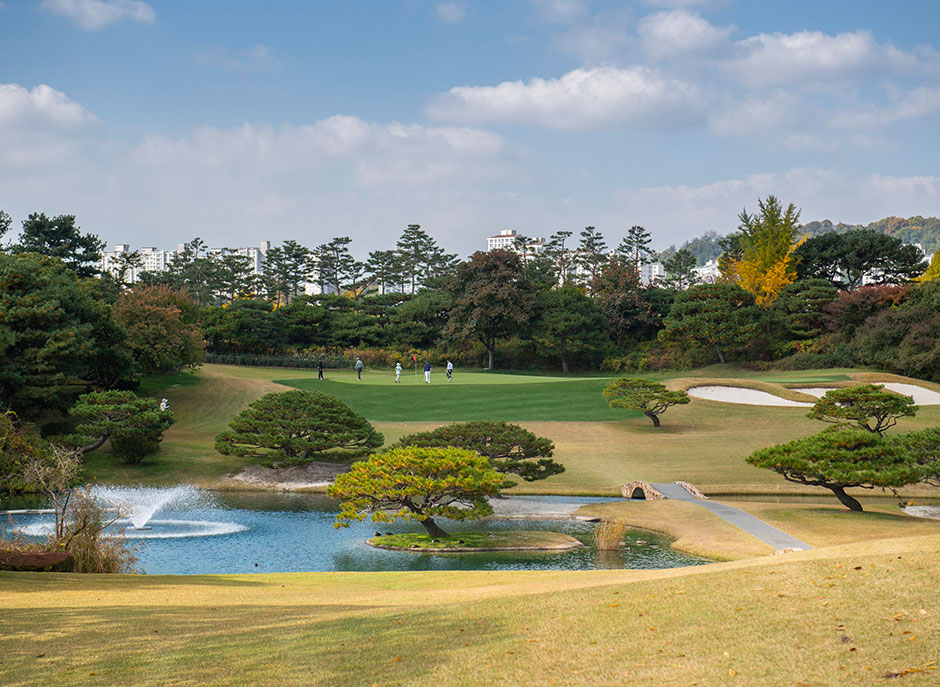 "It feels most rewarding when customers recognize my work," said Kim. "We get their praise second-hand from the caddies, and when I hear things like 'it's so good to be playing a round of golf in a course like Anyang', I feel very rewarded."
Building Excellence Through Knowledge
That praise is well earned. Samsung's golf courses have a reputation for being a cut above the rest. Kim chalks that up to the technical skills of his team, most of which have been working in the industry for over three years, gaining expertise.
"Our golf course has always been a leader in our industry, actively introducing and applying new technologies," he said. "We also contribute a lot to the industry by updating our course management skills."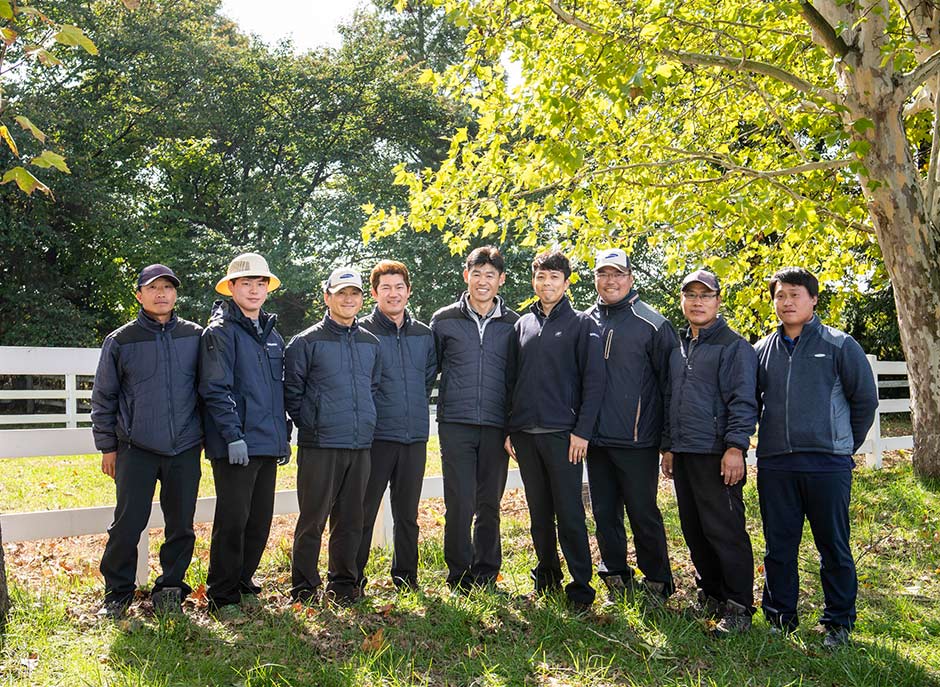 Much of the skill development comes from Samsung's Lawn Environment Institute, the first grass research institute founded by a private company. Started in 1993, it operates training courses for course managers for five golf courses and provides step-by-step certification to support professional development.
"One of the most important roles of Greenkeepers like me is to cultivate professionalism of the employees," said Kim. "We support them to research new issues, so they can add to our knowledge base and contribute to our work."
With knowledge building and hard work at its core, Kim's work philosophy has ensured his success.
At the beginning of every summer, the hardest months for Kim and his team, he puts a sign on his desk that reads: 'this too shall pass'.
"This phrase is typically used to remind oneself that hardship is temporary," said Kim. "But it also reminds me that I should not get too carried away in moments of success, as it can also be temporary. Do not be arrogant, always keep your composure and be humble. I do my best to overcome struggles with my juniors, guiding them not to lose hope during difficult times, and not be over-confident in the good times."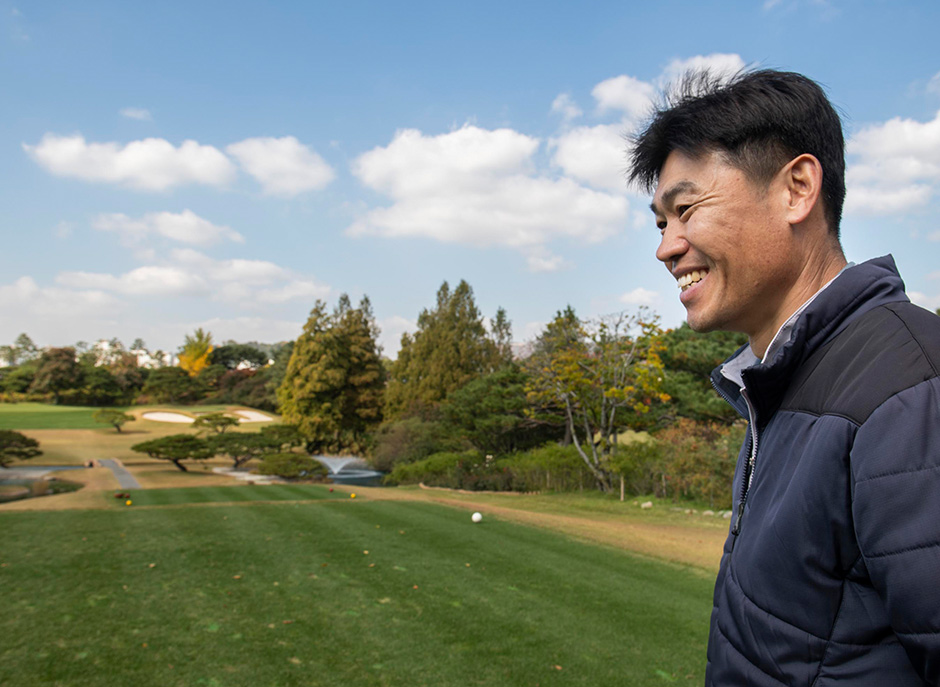 Although the physical labor of course maintenance can be difficult, it's this philosophy that Kim believes makes a good course manager. Along with an interest in plants, one must have the patience and responsibility to overcome the difficult periods. If that sounds like you, Kim is happily waiting for more juniors to join his team.