Just 15 kilometers away from the downtown area of India's largest city Mumbai is the suburban community of Bhandup. It's one of the oldest suburbs of the sprawling financial hub and well connected with the city through a dense web of roads.
Bhandup is also home to the school Shri Saraswati Vidhya Mandir, one of the four schools selected for Samsung C&T's educational environment improvement project "Dream Tomorrow," which also branches out to the communities of Dadar and Mulund, also in Mumbai.
The school improvement initiative builds on Samsung C&T's past efforts to help develop infrastructure in areas of need and offer more opportunities for youth.
Samsung C&T launched its "Dream Tomorrow 4" project in January last year with children's development NGO Plan International to help improve conditions for some 3,000 students not only by setting up child-friendly facilities but also running campaigns that underscore the right to education and the importance of hygiene.
The company recently marked the completion of this massive undertaking with a ceremony at one of the schools Shri Saraswati Vidhya Mandir.
Some of the biggest changes at the schools are the clean drinking water facilities and bathrooms, which now come with running water, stalls, and accessibility for disabled students.
Libraries also got makeovers to ensure they're more welcoming and well organized. Separate play areas have also been set up on school grounds to offer a safe space for children to expand their creative minds.
Another key initiative was the WASH (Wash, Sanitation, and Hygiene) campaign, also widely promoted by UN organizations such as UNICEF and the Water Supply and Sanitation Collaborative Council (WSSCC). Samsung C&T organized workshops for children using fun games and quizzes to help improve their awareness and understanding about the importance of personal hygiene.
To highlight the importance of child education and development, programs were also set up for parents to ensure these core values stretch beyond school boundaries and are embraced at the family level as well.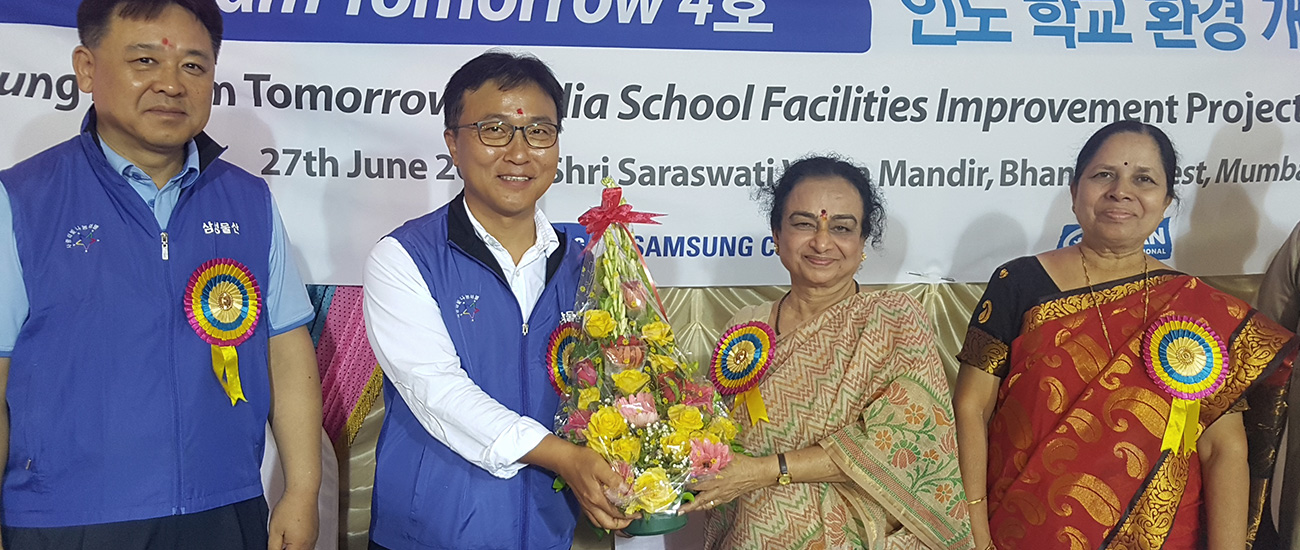 The principal of Shri Saraswati Vidhya Mandir, Rudhita Ravindra Berede, said the 14-month project has brought about significant changes. She noted the number of school dropouts saw an impressive decline over the past year and new admissions rose. The school was also awarded first prize among 40 schools in a citywide cleanliness campaign.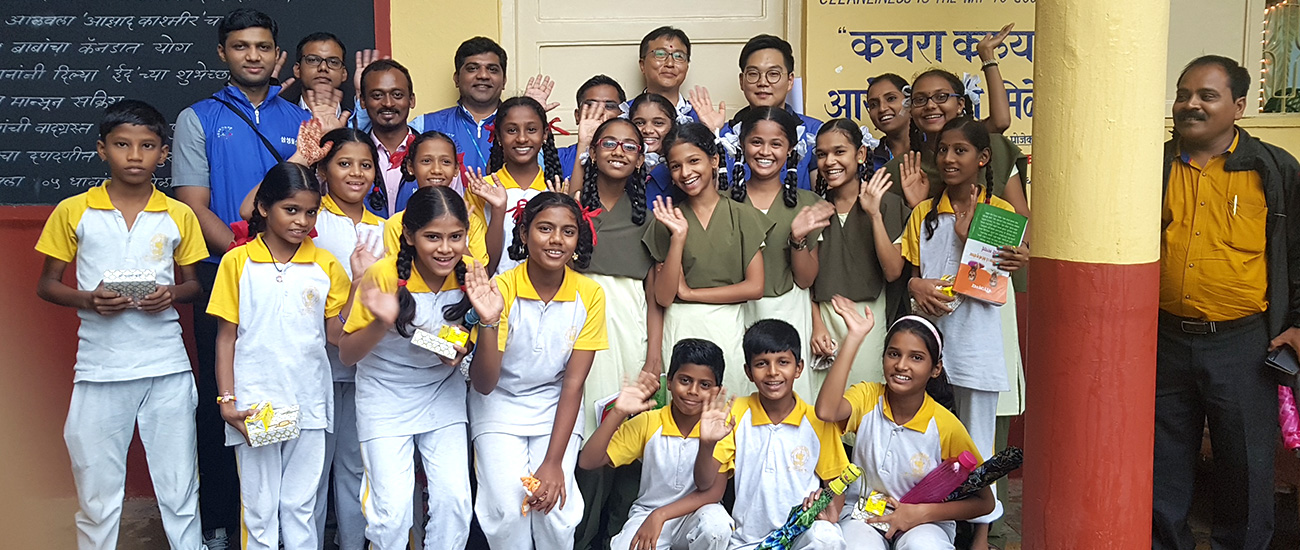 Getting the Basics Rights
In the town of Nandgaon in Karjat – a 2.5-hour drive west from Mumbai – another ambitious project is underway.
Work is just getting started at Samsung C&T Village 5 – the latest addition to a network of villages erected in Indonesia, Vietnam, and India's Chargaon.
"As a construction company, we recognize the importance of home in people's lives," Sungyong Um, Vice President and Project Manager of India Mumbai DAICEC of Samsung C&T, said at the groundbreaking ceremony, where he announced the reconstruction of 55 old homes in the village.
For this, Samsung C&T will team up with Habitat for Humanity, extending its long partnership with the NGO, which dates back to 2000. The two have since built homes in countries like Mongolia, Indonesia, the Philippines, and other areas in India.
Nearly a quarter of the 5,500 population in Nandgaon lives in substandard housing conditions, and up to 80 percent do not have access to restrooms. The new homes will be built with bathrooms, which is expected to reduce the difficulty experienced by many families who are forced to look for privacy behind bushes and trees on a daily basis.
Samsung C&T will also help lay the foundation of tech education for the 320 students at the school of Chaphewadi by building a computer lab.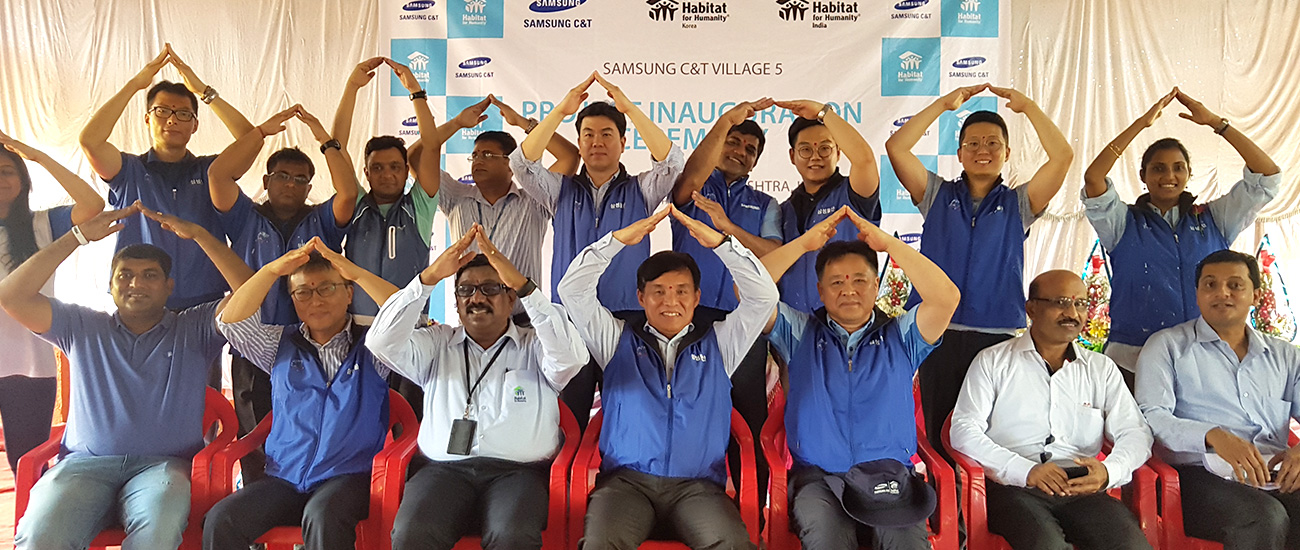 Over in Vietnam, Samsung C&T celebrated the completion of its third village in Ban Dat Commune, Phu Binh District in the province of Thai Nguyen in the first week of July.
Donations from C&T employees helped build new homes and restrooms and establish biogas facilities at livestock farms.
Similar efforts will also unfold at the Cam Thach and Cam Due Communes in Cam Xuyen District of Ha Tinh Province, where Samsung C&T Village 4 is currently being built. The project will include creating an emergency center to help residents better prepare for natural disasters as well as improve learning and sanitation facilities at local kindergartens and schools.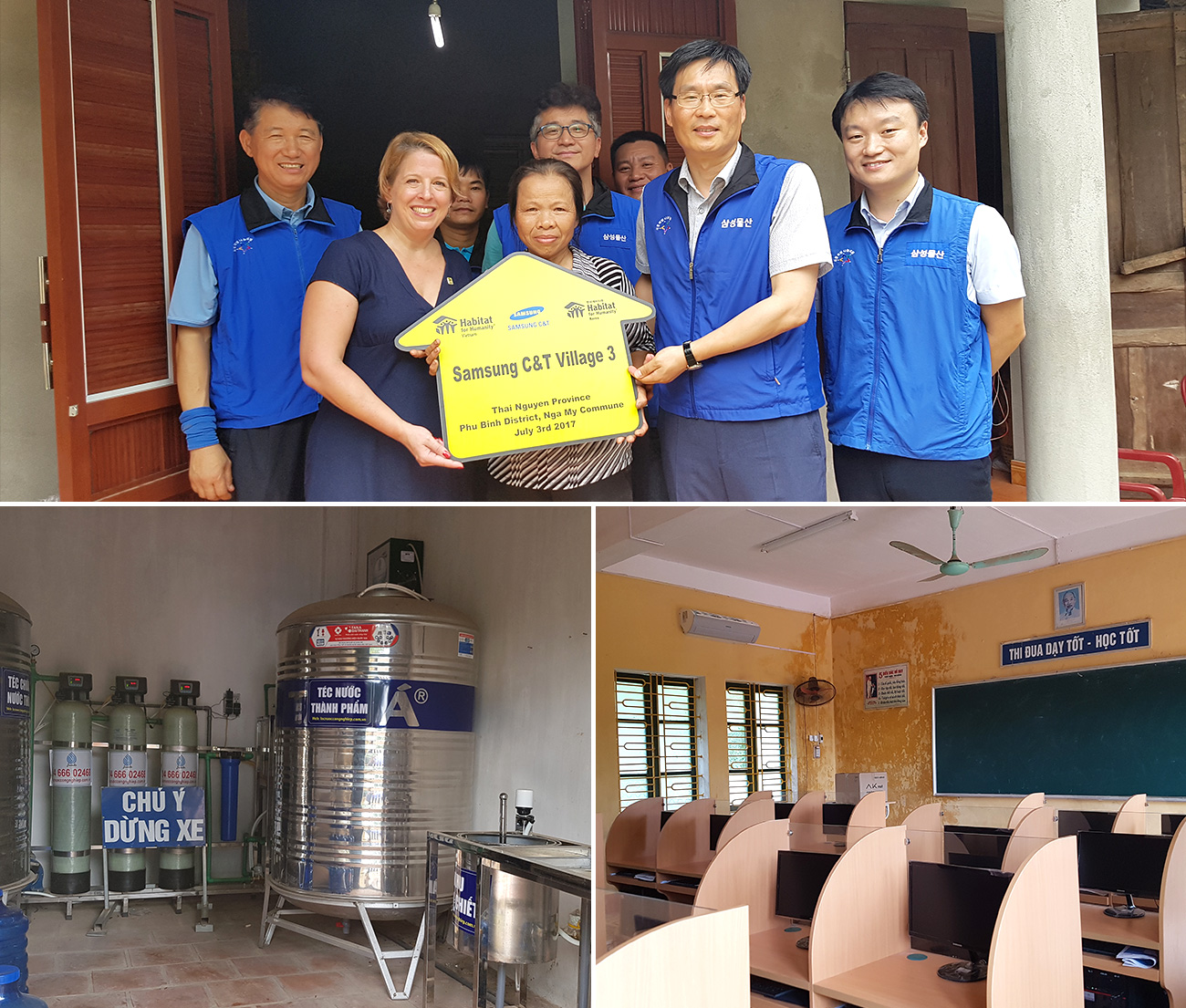 Sharing a Vision of Mutual Growth
With the transformation of each school and village, Samsung C&T hopes to share its vision of mutual growth and contribute to the development of diverse communities. It will continue to pursue partnerships with local governments and international organizations to extend its reach to different corners of the world.