To some, safety simulations, construction efficiency, and the ins-and-outs of building infrastructure management might sound like a bore, but for Juhee Cho, they are the building blocks for awe-inspiring architecture. A director on the Smart Construction Taskforce for Samsung C&T's Construction & Engineering Group, Cho has had a wide-ranging career full of fond memories, like when she worked on Raemian Caelitus apartments in Ichon-dong, South Korea.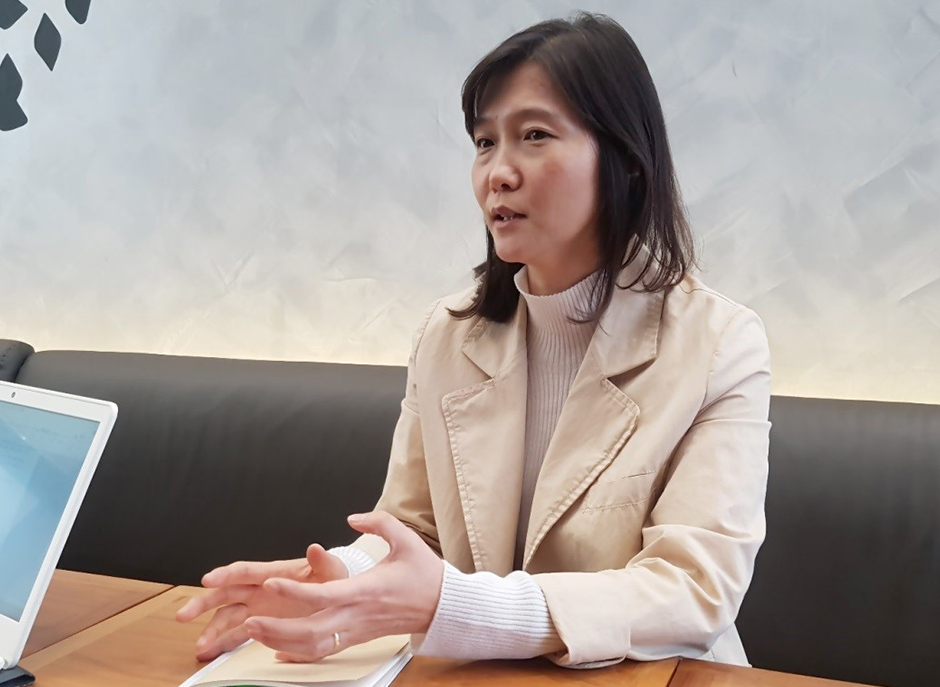 "Raemian Caelitus has a sky bridge connecting two of the towers high off the ground. I worked with the teams at the site to run BIM simulations to improve safety and efficiency," she recalled. "Once the construction phase of the project was finished, I looked up at the sky bridge in awe and applauded knowing just how much work went into the building."
It's those rewarding moments that drive Cho, but architecture is in her genes.
From her days playing with blueprints and drafting compasses on the floor of her father's small architecture firm, it seemed like destiny that Cho would be designing buildings. Those days drawing on tracing paper next to her father while he worked soon turned into a passion for Cho – one she was willing to chase no matter how big the challenge.
"I was always drawn to architecture, but when I was going to school, it was regarded as a predominantly masculine profession," said Cho. "Even my parents were against the idea, but they eventually gave in."
Her hard work has paid off. As part of the Smart Construction Taskforce, Cho is responsible for combining, integrating, and implementing smart technologies, including artificial intelligence, for applications in the construction industry, as well as overseeing all of the Building Infrastructure Management (BIM)-related affairs throughout the organization. It's an admirable position for a woman to hold in the male dominated industry, but Cho says her gender has never really been a factor.
"I was fortunate enough to receive promotions in a timely manner, and work with colleagues who respected my suggestions and opinions," she said. "In society as a whole, I imagine all barriers of entry for women will soon disappear. We have female colleagues working as integral members of project sites and offices all over the world. The most important thing is to contribute and make yourself indispensable."
Cho has taken her own advice to heart, crafting a career that has spanned multiple disciplines and earned her industry recognition.
Cho's inquisitive nature led her to accumulating experience in engineering, BIM, and design. She credits hard work to building up her expertise.
"Transitioning from engineering to BIM, I had to do a lot of studying. I had engineering knowledge and experience at my core, and simply started to add things on top of that," she said. "All these bits of knowledge and experience I gained along the way helped me grow as a professional and motivated me to learn and experience even more."
The dedication to learning a wide variety of practices has led Cho to become an internationally recognized award-winning designer for her apartment floor plans, exteriors, interior products, switches, and more. Among her many accolades is Building Smart Korea's BIM award for the implementation of BIM in the construction process of Raemian Caelitus. Despite the awards, Cho says her favorite thing about the job is working with her colleagues.
"The proudest moments for me are those times when I collaborated with colleagues who are specialists and experts in different fields to achieve something amazing and be awarded for our efforts," she said.
One such example is the award presented by the Korea Institute of Design Promotion, which usually goes to design firms and branding companies. But in 2007, Samsung C&T became the first construction company to receive the award when it went to the Raemian brand.
"That was a pivotal moment because it showed everyone across the entire organization the importance of design management, attracted greater support for our cause, and led to a series of important changes to our work process," said Cho.
Her path to becoming an architect has been hard-earned, and she has developed a work philosophy for those that want to follow suit.
Whether you choose to get an architect's license, or a BIM Coordinator license, Cho says the most important thing about credentials are what you gain in the process of acquiring one.
"Studying for an architect license will teach you about architectural engineering, related laws and regulations, structure, construction, and a variety of other aspects of engineering and construction," she said. "I wholeheartedly recommend it because it's an excellent way to build a firm foundation."
While credentials are one part of the equation, Cho says the most important qualities when companies are looking to hire architects are skill set, curiosity, the ability to work with others, and having insight.
"It's easy to lose one's curiosity once you become familiar with a particular field of expertise," she said. "I think it's up to the individual to recognize when this happens and start exploring other fields for ways to incorporate aspects from those other fields of expertise into your own."
Her philosophy is to never become complacent and to keep moving forward and asking questions. Even with a full career, she continues to define new goals and ambitions for herself.
"My current goals are to further promote the use of BIM and incorporate sensors, 3D printing, ICT, and other smart technologies into BIM in the very near future to develop core and proprietary technologies unique to our company," she said.