The mercury is rising and so is the volume as people party away the summer heat across Korea. Whether you're the type to make a splash at a pool party, immerse yourself in local festivals, or just enjoy a beautiful beach, there are plenty of events across the country where you can unleash your inner party animal this season. Here are the top three places to enjoy the party fever in Korea this summer.
What better way to cool off than to party away the day while 2.4-meter-high waves crash over you? For those with a party spirit, Caribbean Bay's Mega Wave Festival, is the place to go this season. Located next to Everland in Yongin, the festival runs through August 19th and will showcase a wide range of activities for all types.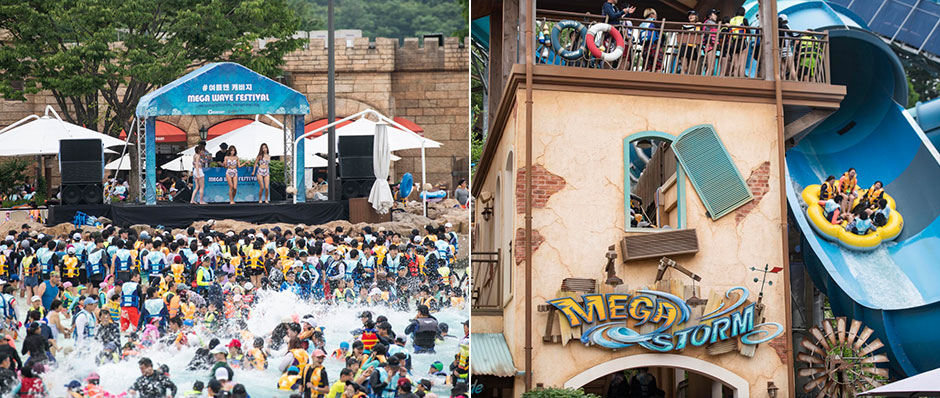 Not only will the wave pool feature famous DJs, like Myo, Primit, and Paralyze Idea, the Super Stage Festival will run every Saturday and feature special guests and famous artist such as BeWhy, Crush, and Bolbbalgan4 (BOL4).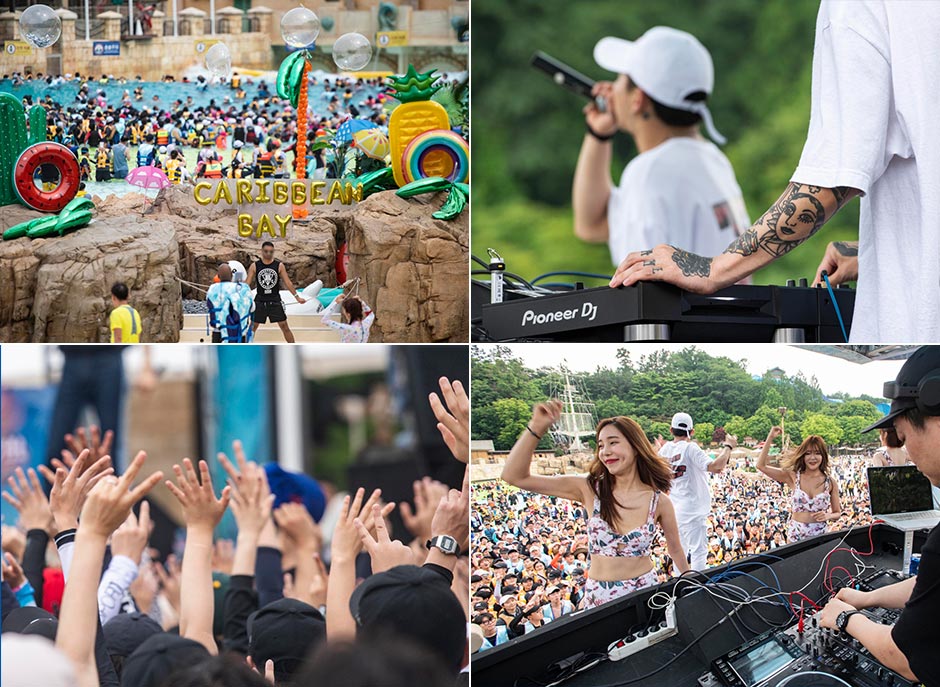 If that doesn't get your adrenaline pumping, there will also be a Mega Fly Board show where world-class athletes perform somersaults and acrobatics on a water-propelled board. Caribbean Bay's signature rides, Mega Storm, Tower Boomerang Go, and Aqua Loop will also be open for thrill seeking guests.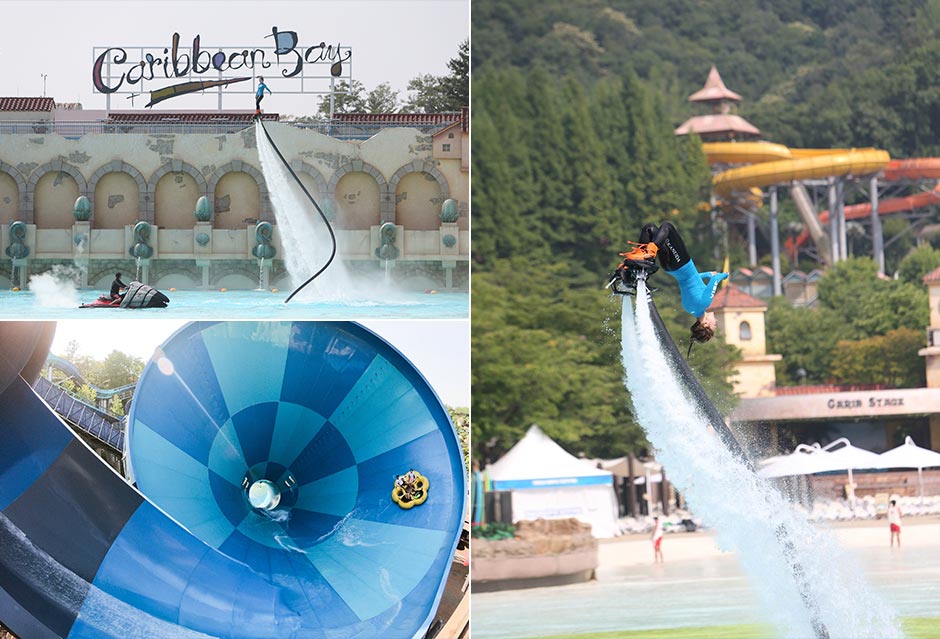 For families looking for something more low-key, the Wild Liverpool playground is the perfect place to hang out. Featuring waterfalls and an obstacle course of stepping stones, hurdles, and log bridges, it's a great spot to splash around with friends and family or soak up some rays under the palm trees of the pool-side lounge.
For full details on the Mega Wave Festival, visit the Caribbean Bay website here.
The Boryeong mud festival is the perfect place to let out your wild side while you cool off this summer. Running from July 13th – 22nd, the festival takes place in Boryeong city on the coastal region of Chungcheongnam province and will celebrate its 20th anniversary this year.
Stretching 136km, the coastline consists of fine sea mud rich in minerals, germanium, and bentonite, which are known to be good for your skin. Those special properties prompted the development of cosmetic products in 1996, with the first mud festival following two years later to support the burgeoning industry. The event has since grown and attracts millions of visitors every year.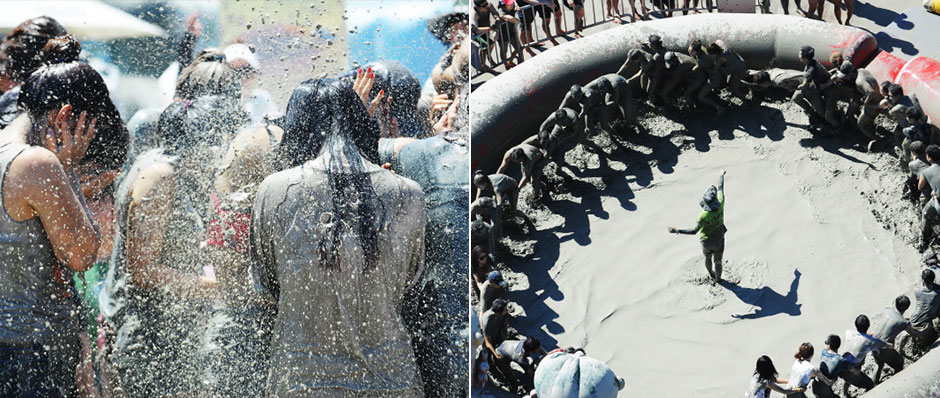 Activities include body painting, where artists draw beautiful patterns in colored mud for participants to preserve in photographs; a mud super slide from which you can see incredible views of the beach; and a giant mud bath where visitors can enjoy mud bathing, competitions, and games. Night time beach parties and street parades make for a great way to let loose after a fun day rolling around in the mud.
Visitors can find information about the mud festival on the event website here.
Busan is the quintessential summer town. Known for seafood, beautiful beaches, and friendly locals, it's a must-see destination for visitors on summer holidays. There's no better time to visit than during the annual Busan Sea Festival, running from August 1st – 5th this year.
First held in 1996 to promote Busan as a beautiful harbor city, it has now become the largest sea festival in the country. Held at various beach locations including Haeundae Beach, Gwangalli Beach, Songdo Beach, and Songjeong Beach, and at other venues throughout Busan, the festival turns entire sections of the city into a giant beach festival.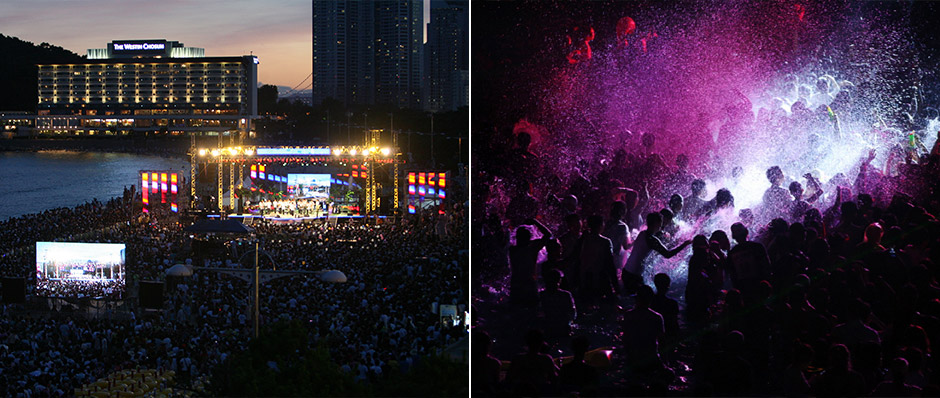 Visitors will find windsurfing, beach volleyball tournaments, and other water sports as well as performances on stages set up along the beaches. Special events include a night-time pool party with famous DJs, a water carnival with dance teams and EDM performances, a DJ contest, a youth band contest, and more.
Full details of the event schedule can be found here.